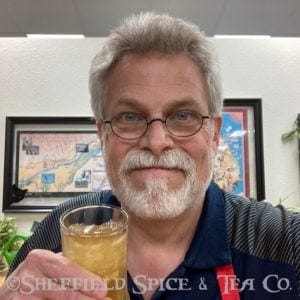 Bohemian Raspberry Green Tea – Rick's Tea Face
Time for another slushed iced tea, and the winner today is … Bohemian Raspberry Green Tea. I don't drink a lot of green teas iced, so when I do, I prefer a fruit flavor. Our Bohemian Raspberry has a nice raspberry flavor, which isn't so heavy like you have in a fruit-based herbal tea, but still very raspberry, but more nuanced. Take a look at the full tea description, please click HERE.
Bohemian has been a constant favorite of our friends from when we opened our store. Both hot and iced, the raspberry flavor resonates with our sippers. While Bohemian Raspberry sounds like an allusion to a song, it's not. Bohemia in the Czech Republic is known for their raspberries, which can be traced back to around the 900's. There's more to the story, which we have on our website.
If you like favored green tea, especially fruity green teas, then you need to give this one a try. And if you are new to green teas, starting with a flavored one is a good way to begin since unflavored greens can be a bit grassy for some. Give it a try and see if you might need it as part of your Summer tea shelf. Cheers!