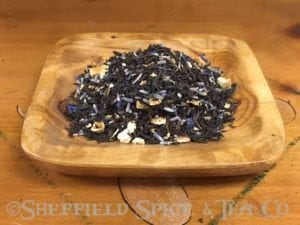 Earl Grey Citrus Provence – Rick's Tea Face
It must be all Extreme Personal Favorites Tea Faces so far this year, since here's another one. It's Earl Grey Citrus Provence. Since we first blended it a few years ago, it has become extremely popular. So much so, we were asked if we could craft a green tea version, which we did, and it too has gained a large following. Ok, ok, I'll tell you its story.
Once upon a time, many years ago when Elvis was still alive, I stumbled across Earl Grey Tea, years before Jean Luc Picard asked for his tea, "Earl Grey…hot". It became my personal favorite tea and I've had Earl Grey in my tea pantry ever since. I've never been without it.
Before we opened our store 9 years ago, we visited London and Paris, as many of you know. We brought back a number of teas from a couple of tea shops, including several Earl Greys. We noticed that Earl Grey in Europe is more citrusy, with sharper flavors. The Provence EG's, had just enough lavender to let you know it was there but not overpower the bergamot.
After we crafted our popular Black Provence Tea, I remembered how I enjoyed the EG Provence Teas we brought back. In no time, I had crafted our Earl Grey Citrus Provence, to which I added an extra citrus touch as we found across The Pond, with just enough lavender. The rest is history. Its following continues to grow, as does its green tea version cousin.
My Desert Island Tea will always be a straight Earl Grey, and I've probably drank well over a hundred versions. But add Cream Earl Grey, other EG's, and I'm a happy sipper. And our Earl Grey Citrus Provence rounds out my lineup, since it brings together the best of a historical British Earl Grey, with my favorite scent, lavender. In my cup, these flavors meld for a Best of All Worlds Tea.
If you have enjoyed it, then we'll see you soon to pick up more. If you haven't tried it yet, but enjoy Earl Grey, lavender, or just want to experience 2 of the top tea flavors, the now is the time. For even more information, please click HERE.  Now, please excuse me while I make a second cup. Cheers!