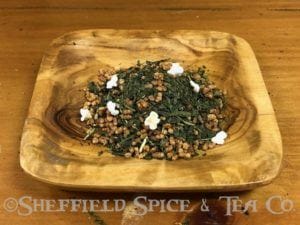 Genmaicha Green Tea – Rick's Tea face 08-16-2022
I was in a Japanese tea mood, when I opened my tea pantry and immediately saw Genmaicha staring at me. How could I resist? I even used one of my cute, Japanese yunomi tea cups. We have a lot of genmaicha tea devotees, so if you're not one of them, let me explain a bit.
Genmai is rice in Japanese, and cha is tea, so genmaicha is rice tea. It's actually a blend of Japanese Sencha Tea and Roasted Brown Rice giving it a unique roasted flavor with the light grassiness of the green tea. It's the roasty flavor which hooked me as we were tasting teas before we opened our store. I'll drink plain green teas, plain black teas, plain white and rooibos as well, when I want to taste tea as grown, before flavorings are added. This way, the subtleties come through, just as the grassy green flavor mixes wonderfully with the roasted brown rice.
Genmaicha is one of a number of our green teas we buy directly from several families in Japan. These families have been growing, processing and selling tea in Japan for about 150 years each. Buying direct allows us to buy the highest quality tea and offer it at reasonable prices by bypassing the middleman tea companies.
Have I convinced you enough to try it? Still want more information and a deeper history of Genmaicha's origin, or as legend has it? If so, then please click HERE. Once you're taken an even closer look, please stop by our store to pick some up, or on our website. Now, back to work, as I finish my cup. Cheers!