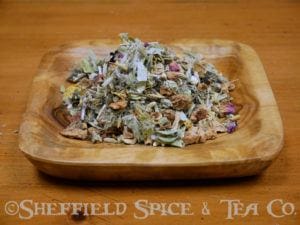 Greek Mountain Honey Tea – Rick's Tea Face
04/28/2021
What's in my tea cup this week? It's our newest herbal tea, Greek Mountain Honey Tea. Not only does it have a great flavor, but it's a very heathy drink. Our blender takes Sideritis, the Greek Mountain Tea herb, then adds apple pieces, fennel, eucalyptus, ginger, a bit Manuka honey powder and other herbs, for a delicious herbal tea. Add a bit of honey, as the Greeks drink it, and you have a delicious cuppa. Take a look. Click HERE.
When you look back into Greek Mountain Tea historically, it has been drank as an herbal folk remedy for many conditions. Greek Mountain Tea, or Sideritis, also known as Ironwort, can be traced back over 2400 years, to the days of Hippocrates, considered the father of modern medicine, who declared it's benefits for the immune and respiratory systems. In Greece today, it is still drank for many healthy reasons, including the common cold and the flu.
Sideritis is a flowering perennial grown very high in the mountainous regions of Greece, the Balkans, Macedonia and other Mediterranean areas. It has a floral flavor, with notes of mint and citrus. When the other ingredients are added, the resulting flavor, and no caffeine, gives you a very flavorful cup of herbal tea you can drink any time of day, or night.
While we make no claims for medicinal or remedial uses of the tea, Sideritis has been used for thousands of years in the realm of folk medicine. It contains high levels of antioxidants, polyphenols, and essential oils, including flavonoids. Ongoing studies have compared it's antioxidant benefits on the same level as green tea. A number of studies are looking at Sideritis and its potential as an anti-inflammatory, digestive and benefits for cognitive conditions, including Alzheimer's.
So as you can see, whether you have done your research and consulted your doctor and have decided that Greek Mountain Honey Tea has heathy properties or you are like us and just drink it because it tastes good, if you are a fan of delicious herbal teas, then you must check it out and taste it has such a devoted following. Cheers!