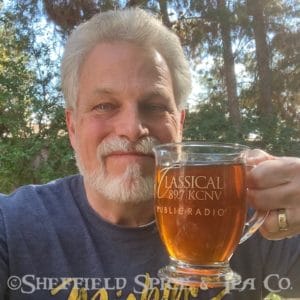 Holiday Winter Spice Black Tea – Rick's Tea Face 09/27/2022
Our Holiday Winter Spice Tea is not just for the holidays or for Winter. It's one of our seasonal teas which we bring in the Fall and when it's gone around Christmas, it's goodbye until next year. Once we get past Summer I start getting a taste for spiced teas. Not sure why, but I just do. We carry our Mulled Spice Black Tea all year, but our Holiday Winter Spice Tea is lighter on the cinnamon, with a touch more orange spice and clove. We get requests for it all year, but if we carried it all year, then it wouldn't be special in the Fall holiday season.
So today, I had to have my first cup of Holiday Winter Spice Tea. It's in the mid-90's still, but I needed my spiced flavor. I'll ignore the temperature, stay indoors, take a sip, and think of the cooler Fall and Winter temps. The flavor does make me think about my family over the years, whether at Christmas with the spices simmering on the stove, or maybe spiced cider and doughnuts at the cider mills. It's another tea whose scent and taste can evoke other times and places.
If you enjoy light spiced teas, you owe it to yourself to give it a try. For more information, please click HERE.
Remember though, it's only here for the holiday season, or until it's gone. So, if you think you still need to try it or pick up some extra, don't wait too long, since when it's gone, it's gone until next year.
Since you'll need an infuser, our Mesh Pincer Ball Tea Infusers are ideas. They come in several sizes for your different sizes of tea cups and teapots. To take a look at them, please click HERE.