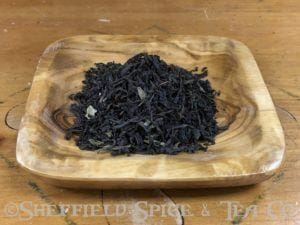 Icewine Tea – Rick's Tea Face 10/25/2022
The Fall cold air reminds me of Late Harvest Wines, and more specifically, Icewines, which is why I'm sipping our Icewine Black Tea this week. Even if you aren't a wine drinker, this is a wonderfully flavored tea you should get to know. And no, there isn't any alcohol in the tea, as I'm asked every so often. Let me tell you a bit about it.
Ontario Icewine is used to add a light, grapey flavor to this tea. And if you're not familiar with Icewine is a very late harvested grape of several white grape varieties. The grapes are harvested so late the grapes are harvested frozen, usually in November. You only get a drop or two of grape juice from these frozen, shriveled grapes. For this reason the sugar is so concentrated the resulting wine is very sweet, almost like syrup. This grapey sweetness is what makes the flavor of this Icewine tea so special.
My late brother, Dave, would make an annual Fall wine trip to the Traverse City, Leelenau Peninsula area of Michigan, and bring back cases of wines. This area produces some of the finest wines in the country and some of the best icewines, when conditions are right, since vintners can't always produce an icewine every year. Point Pelee in Southern Ontario is another wine region which also produces outstanding icewines, which our blender uses for this tea.
Have I piqued your interest enough to take a look if you haven't sipped our Icewine tea yet? If you would like even more information, we have more on our website. Just click HERE.
To tease you even further, we have Inukshuk, our Blueberry Icewine, which only comes in teabags in beautifully embossed tea tins. I keep a tin of Inukshuk on my counter at all times.
Now, please excuse me so I can finish my Icewine Tea before it cools down any further. Cheers!