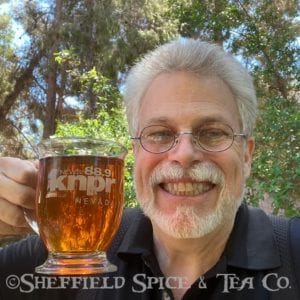 Pumpkin Spice Black Tea – Rick's Tea Face 09/06/2022
I'm one of those crazies who loves pumpkin, and this includes our Pumpkin Spice Black Tea. We have a Pumpkin dessert recipe for you this coming week, but that's all I'll say on that for now. Pumpkin Spice this and Pumpkin Spice that is usually about the cinnamon, nutmeg, clove and the other spices which are commonly used to flavor pumpkin pies and other pumpkin delectables. But I like the flavor of the pumpkin itself, as well as others in that part of the squash spectrum. If you try hard enough, you can pick up the pumpkin nuances in our Pumpkin Spice Tea, along with the spices.
When we bring back our Pumpkin and other Fall & Winter Holiday teas, it's a special time for many of our friends. The flavors, the holidays, the memories… These flavors are the gateways to other times, other places, family memories, and some of the best tasting teas we can sip while we're off into another world. Throw in a visit to the cider mill and some fresh doughnuts, and I'm set.
We have friends who ask us when we are bringing them in for the season, and as soon as we announce them, they are in the same day. If you have not had the sipping pleasure yet, but are still curious enough that you need more information, then please click HERE.  Then, once you've read the story, checked it out online, swing by our store, or visit us online and pick some up. Now, back to my tea. Cheers!