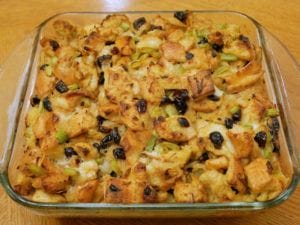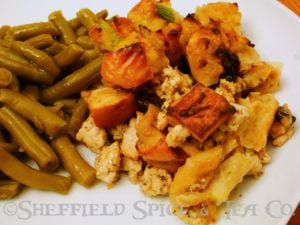 Turkey Stuffing Bake
Turkey Stuffing Bake is a very delicious dish. It is also easy to put together. The combination of the turkey, cranberries and seasoned bread will remind you of the best Thanksgiving turkey dinner you have ever had, without having to take all day to roast an entire turkey. Once you have made it, you will want to make it during the year. Serve with a side of the vegetable of your choice and your dinner is complete.
Serves 4 to 6
Ingredients:
2 Tablespoons Extra Virgin Olive Oil
2 Pounds Ground Turkey
3 Tablespoons Flour
1 Tablespoon Rubbed Sage
3 ½ Cups Chicken Broth
2 Teaspoons Kosher Flake Salt
1 Teaspoon Freshly Ground Black Pepper
3 Celery Stalks, Diced
1 Large Yellow Onion, Diced
8 Cups Crusty White Bread, Cut into Medium to Large Cubes (About 1 Loaf)
¾ Cup Dried Cranberries
2 Eggs, Lightly Beaten
2 Tablespoons Butter, Cubed into Small Pieces
Directions:
Preheat oven to 425 degrees.
In a large skillet, heat 1 tablespoon of the oil over medium-high. Add turkey and cook about 10-12 minutes until browned. Break up the meat with a wooden spatula.
Add flour and rubbed sage. Stir to coat. Add 1 ½ cups of the broth. Cook about 2 minutes until liquid is thickened. Scrape up any browned bits. Add the salt and pepper. Stir to combine. Transfer the turkey mixture to an 8-inch square baking dish.
Rinse out and wipe dry the skillet. Return to the heat and add the remaining tablespoon of the oil . Add celery and onion. Cook about 6 to 8 until softened. Watch so they don't burn.
Remove from heat. Add the cubed bread, cranberries, and the remaining 2 cups of broth. Toss until combined. Stir in the beaten eggs.
Spoon the bread mixture evenly over the turkey mixture, but don't compact down. Dot the top with the butter cubes. Bake 25 tgo 30 minutes until the bread is golden brown. Let cool 10 minutes. This is a meal itself, we but add a side of green beans, broccoli or other vegetable to round out the dish. Enjoy.