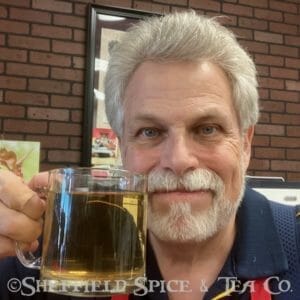 White Christmas Tea – Rick's Tea Face 10/19/2022
It's a bit early to talk about our White Christmas Tea, but this is the last of our Fall Seasonal Teas we've received. It took a while, but it's finally here, and I had to have a cup. It's a great light, citrusy flavored white tea. Whether you sip it plain, or add a touch of sweetener, it's sure to become one of your favorite teas, as it has become one of ours.
The flavor and scent might make you think about your childhood and your home around Christmas. To me, it's like the Christmas baking season with my mom and grandmother. It's hard to point out any one scent since our blender has added many light notes of cinnamon, apple, citrus and other spices. The flavors are equally complex which is why it's so popular since it evokes different reactions from our friends.
If you have had the pleasure of sipping it, then you know what I talking about. If you have not sipped it but like light teas with spiced hints, then please take a look and click HERE.
The popularity of White Christmas has continued to grow every year, but since it's a seasonal tea, so once this year's stock runs out, it will be gone until next Fall. Hmmmmm….remind you of a movie where something disappears for about 400 years? That's right, Brigadoon. Now, you won't have to wait 400 years, but 8 to 9 months is still a long time to wait. So, if White Christmas is one of your favorite teas, or soon to be, don't wait to stock up. Now, if you'll excuse me I must make another cup then back to my movie. Which movie? Why Brigadoon, of course. Cheers!