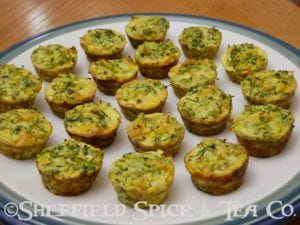 Baked Cheesy Zucchini Bites
Our Baked Cheesy Zucchini Bites are easy make, and quite good. Their small size make them perfect as an appetizer to your meal, or even as a Tapas for a small bites tasting party. Our Mount Olympus Seasoning adds a Mediterranean flavor to the bites. Like little soufflés. The Parmesan and Cheddar cheese combine with all the other flavors and you have one tasty little treat, one bite at a time.
24 servings
Ingredients:
2 Lbs Zucchini, Grated
1 Teaspoon Kosher Flake Salt
¼ Cup Mayonnaise
3 Eggs
¾ Cup Fresh Firm Crustless White Bread, Diced ¼" Pieces
½ Cup Green Onions, Chopped Small
1 Tablespoon Sheffield's Mount Olympus Seasoning
¼ Cup Grated Parmesan Cheese
½ Cup Grated Sharp Cheddar Cheese
Directions:
Place the grated Zucchini in a medium mixing bowl. Sprinkle with the salt and mix to combine well. Transfer to a colander and place over a bowl. Let drain for at least 30 minutes. Squeeze the moisture out well with your hands. Press against the sides of the colander to squeeze out even more. You want to remove as much of the moisture as possible. Set aside.
While the Zucchini is draining, add the mayonnaise and eggs to a large mixing bowl. Whisk until well combined and smooth. Add the diced bread, Mount Olympus Seasoning, and chopped green onion. Mix with a fork to combine. Set aside for about 10 to 15 minutes to let the flavors develop. Add Zucchini and mix well.
Preheat the oven to 350ºF. Lightly brush the sides of two 12 well or one 24 well mini-muffin tins with olive oil. We use a 24 well non-stick mini muffin tin, but still give them a light oil brushing. Give the mixture one last stir. Spoon a heaping tablespoon of the mixture into each muffin well. Evenly distribute any remaining mixture across all wells.
Bake for 25 to 30 minutes until golden brown around the edges. Remove from oven and set tins on a wire rack. Let cook for 5 minutes. Remove the bites from the tins and place back on the rack to cook further. Run a knife around the edges to loosen if needed if you didn't use non-stick tins. Eat while warm, with a cup of your favorite Sheffield tea. Enjoy.