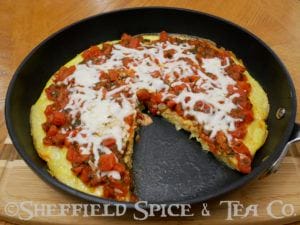 Pizza Frittata
Frittatas are an open-faced Italian omelette. They are typically prepared for breakfast, but you see them on menus for anytime of the day. Our Pizza Frittata makes an excellent breakfast or brunch entrée, or add some cooked crumbled Italian sausage, bacon or other cooked meat and you have a delicious dinner entrée. Our Italian Seasoning gives the tomato sauce topping a true Italian flavor to compliment the rest of the Frittata ingredients.
Serves 4 to 6
Ingredients:
3 Tablespoons Olive Oil
6 Large Eggs, plus 2 More Egg Whites
1 Medium Onion, Finely Chopped
Kosher Flake Salt
1 ½ Cups Shredded Part-skim Mozzarella Cheese (6 Ounces)
2 Garlic Cloves, Medium Chopped
1 Can (14.5 Ounces) Diced Tomatoes, with Juice
1 Tablespoon Italian Seasoning
Directions:
Preheat oven to 350ºF. Make sure the rack is set on the middle setting.
Heat 1 tablespoon of the olive oil over medium heat in a medium (10″) nonstick, oven proof skillet. Add the onion, and cook 4 to 5 minuted until soft. Stir often so it doesn't burn. Remove from the heat and cool completely.
In a large mixing bowl, add the eggs, egg whites, 1 teaspoon of the salt, and 3 tablespoons water. Whisk well to combine and a bit frothy. The air whisked in, will make the frittata fluffier. Add 1 cup of the mozzarella cheese and the cooked onion. Stir to combine.
In the medium (10″) nonstick skillet, add 1 tablespoon of the olive oil and heat over medium heat. When heated, add the egg mixture. Reduce the heat to low and cook about 3 to 4 minutes until the edges start to set. Transfer the skillet to the pre-heated oven. Cook about 10 to 12 minutes, or until the frittata is set. Check with a toothpick after 10 minutes. It should come out clean. If not, cook another 2 to 3 minutes.
While the frittata is cooking, in a large skillet over low heat, add the remaining tablespoon of olive oil. Add the chopped garlic and cook a couple minutes until soft. Watch so it doesn't burn. Add the diced tomatoes with the juice, the Italian Seasoning and 1 teaspoon of the Kosher salt. Stir to combine and cook over low heat for about 5 minutes while frittata finishes cooking.
Remove the skillet from the oven, spoon the tomato sauce over the frittata and evenly sprinkle the remaining ½ cup of the mozzarella cheese over the sauce. Place the skillet back in the oven for 2 minutes until the cheese melts. Remove from the oven, cut into slices, serve and enjoy.