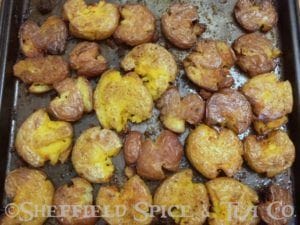 Seasoned Smashed Potatoes
Seasoned Smashed Potatoes are easy to make and are always a hit with dining guests. We've used other spices and herbs, and find our Sheffield's Seasoning Salt gives them the right flavor to accompany just about any main entree, without tasting too salty or overpowering the rest of your meal.
Once you make them, you might even make them to eat as snack or appetizer for party. Just double or triple the ingredients. You won't go wrong. You will have your guests ask for your seasoning, they are that tasty.
Serves 4
Ingredients:
1 ½ Pounds Small or New Potatoes
1 Tablespoon Sea Salt
Olive Oil
3 to 4 Tablespoons Sheffield's Seasoning Salt
Directions:
In a large pot, fill ¾ full with fresh, cold water. Add the Sea Salt and potatoes. Bring to a boil, reduce heat and simmer for about 15 minutes, or until just fork tender. Don't over cook or they will fall apart when smashed. Drain and transfer to a shallow-sided baking tray. Let cool for 5 minutes.
Pre-heat oven to 450 degrees. Carefully crush with a wooden spoon or spatula, to about ½" thick. Drizzle olive oil on the smashed potatoes. Don't be stingy. Be generous because it helps to crisp them up. Sprinkle half of the Seasoning Salt evenly on them. Roast for 15 minutes. Turn over, drizzle a bit more oil on them and sprinkle the rest of the Seasoning Salt on them. Roast another 15 minutes until golden brown. Serve immediately.