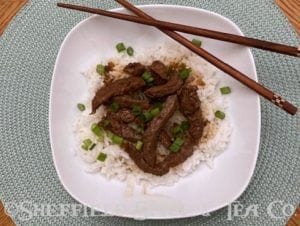 Teriyaki Beef Bowl
Our Teriyaki Beef Bowl is very easy to make. It's a dish you can have ready in the time it takes to cook the rice. That makes it a good recipe for dinner when you have limited time but still want a classic Asian dish. It has a savory Asian flavor, which comes out by using traditional ingredients like soy sauce, mirin, garlic, and ginger. We also add our Asian Accents Seasoning for additional flavor. The result will make you keep the recipe handy when you need a fast dinner for your family and guests.
Serves 4
Ingredients:
2 Cups Uncooked White Rice
¼ Cup Low-sodium Soy Sauce
1 Tablespoon Japanese Mirin, or Dry White Wine
2 Teaspoons Sheffield's Asian Accents Seasoning
½ Teaspoon Fresh Garlic, Minced
½ Teaspoon Fresh Ginger, Grated
3 Tablespoons Sugar
1 Pound Boneless Rib Eye Steak, Thinly Sliced, with Fat Trimmed Away
2 Green Onions, Sliced
Directions:
Cook the rice according to the directions on the package.
In a small bowl, mix together the soy sauce, mirin or white wine, Asian Accents Seasoning, garlic, ginger, and sugar.
Heat a non-stick skillet over medium to medium-high heat. Add the sliced rib eye steak and cook for a minute. Turn over, add the green onions and cook for another minute or until the steak is no longer pink. Pour the sauce mixture over the meat, stir to combine and cook for another minute so the mixture heats thoroughly.
Serve the Teriyaki Beef over the rice in bowls. Ladle the sauce evenly over each portion.