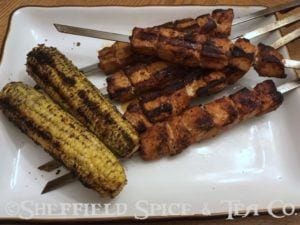 BBQ Pork Loin Skewers
BBQ Pork Loin Skewers are easy to make and keep s the heat out of your kitchen during the Summer months. They are marinated in a BBQ rub, then quickly grilled. Basting them while grilling adds extra flavor. You can serve them with your favorite BBQ sauce. We will make some sauce from the BBQ Rub we use for the marinade, so the flavor is consistent.
We cut our own cubes from a pork loin roast so we can make them larger. This allows them to still cook fast, but being a bit larger, keeps them moister. A lean pork roast is naturally drier than other cuts, so it's important you don't overcook the skewers.
We like using our St. Louis BBQ Rub since it has a nice balance between sweet and spicy. But, you can use any of our other BBQ Rubs to have the flavor of your choice.
Makes 4 servings
Ingredients:
1 Pork Loin Roast, about 2 pounds, cut into 1 ½" cubes
3 to 4 Tablespoons St. Louis BBQ Rub (more if you want to make a BBQ Sauce from the rub)
¼ Cup Water
¼ Olive Oil
4 Flat Metal Skewers
If you want to make BBQ Sauce from the rub, put 2-3 tablespoons of the rub in 1 cup of tomato sauce, ½ cup of cider vinegar, and ½ cup of water in a medium sauce pan. Simmer on low for 20-30 minutes. You can adjust the amount of spice to suit your taste.
Directions:
In a small mixing bowl, add the St. Louis BBQ Rub and water. Whisk to combine. Let sit for a couple minutes to allow the rub to absorb the water. Add the olive oil and whisk again to combine well. Reserve ⅛ cup of the mixture to baste the skewers while cooking. Put the pork loin cubes in a reclosable freezer bag. Add the marinade mixture. Toss the cubes to coat well. Refrigerate for 4 to 6 hours, allowing the flavors to develop. Turn the bag over occasionally to re-coat the pork.
Set up a medium high grill. Thread the pork cubes on the skewers, dividing them evenly between the 4 skewers. When ready to grill, lightly coat the grill grates with oil. Place the skewers on the grill. Lightly brush half of the reserved marinade on the meat. Cook for 3 minutes. Turn over and brush with the rest of the reserved marinade. Grill for another 3 to 4 minutes, until thoroughly cooked. Watch so they don't overcook or they will dry out. Remove and immediately serve. If you made the BBQ Sauce, serve warm in ramekins for dipping. We like to serve them with Street Grilled Corn, maybe a wild rice dish or even our favorite baked beans.