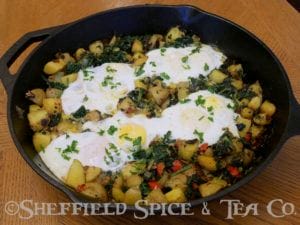 Breakfast Potato and Egg Hash
Breakfast Potato and Egg Hash is not just for breakfast. It's perfect for brunch and even dinner. This classic potato hash is updated by adding the spinach and other spices, giving it a very savory flavor. The eggs are cooked in the same pan with the hash. This allows the flavors to mingle. If you have leftovers, they reheat quite well, but who has leftovers with such a great tasting dish.
Serves 4
Ingredients:
¾ Pound New, Small White Potatoes, cut into ½ inch pieces
Kosher Flake Salt
3 Tablespoons Butter
1 Medium Yellow Onion, Diced
1 Large Red Bell Pepper, Seeded and Diced
2 Teaspoons Roasted California Minced Garlic
½ Teaspoon Crushed Red Pepper Flakes
1 10 Ounces Package Frozen Chopped Spinach (Thaw and squeeze out excess liquid.)
8 Large Eggs
¼ Cup Freshly Grated Parmesan Cheese
Chopped Fresh Parsley, for garnish
Directions:
In a large cast iron or other heavy skillet, add the potatoes and 2 teaspoons of the salt. Add enough water to cover the potatoes. Bring to a boil and cook about 5 to 7 minutes until potatoes are fork tender. Drain off the water and transfer the potatoes to a bowl until needed.
Melt 2 tablespoons of the butter over medium heat in the same skillet. Add the onion and the red bell pepper. Cook about 10 minutes until softened. Add the potatoes, minced garlic, and crushed red pepper flakes. Season with salt and cook until potatoes are golden, 3 minutes. Add spinach and the remaining 1 tablespoon of the butter and cook until butter is melted. Stir a bit to combine it into the mixture.
Make four wells in the potato mixture with large serving spoon. Crack 2 eggs into each well and reduce heat to medium-low. Cover and cook about 6 to 8 minutes to your preferred doneness. Serve with a sprinkle of the Parmesan and parsley. Enjoy.