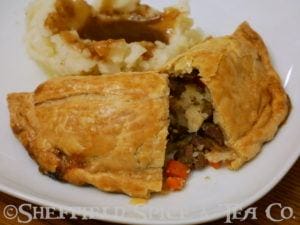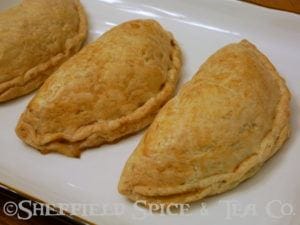 Cornish Beef Pasties
Cornish Beef Pasties are a traditional British dish. There are many versions, from the very traditional Cornish Pasty, with rules, to various British variations, to Finnish versions from Michigan's Upper Peninsula. They all use beef as the main ingredient, but you will find chicken, vegetarian and other versions. We also us our Savory Onion Blend to season them.  It adds the right combination of spices and herbs to give you a very delicious pasty.
The original Cornish pasty, was originally created as a handpie for the Cornish miners to carry for lunch. They are now found on most British menus for lunch and dinner. We both grew up with English versions using potatoes, onions, carrots and sometimes rutabaga, which is found in the strict Cornish versions.
Rick's Godmother was Finnish from Laurium in Michigan's Upper Peninsula, so he ate both British and Finnish versions. The Finnish typically use ground beef and pork, with carrots added to the mixture. They also serve theirs with catsup. Our version tilts to the British side, but with carrots, because we like the flavor they add.
The crust makes the difference. We're not pie crust makers, so either we use pre-made crusts, pre-made pie crust dough if we can find it, or follow a recipe if we have the time. You want a flaky crust, so if you have a family favorite pie crust recipe, use it.
Makes 4 to 6
Ingredients:
1 ¼ – 1 ½ Lb, Ready-made Pie (shortcrust) Pastry. We used the pre-made refrigerated type, but make your own if you prefer.
1 to 1 ½ Lb Chuck Steak, Trimmed & Diced. Some traditional recipes also use skirt steak or flap meat.
2 Cups Potato Diced, (About 1 Medium or Large)
1 Small Rutabaga (Optional but traditional in a Cornish pasty. If you use, cut back on the potato.)
1 Cup Carrot, Diced. Carrots are not in a traditional Cornish pasty, but are in a Finnish pasty. We're part British, but grew up with carrots in ours.
1 Cup Diced Onion (About 1 Small to Medium)
2 Tablespoons Sheffield's Savory Onion Blend
1 Teaspoon Freshly Ground Black Pepper
2 Tablespoons Water
1 Egg, Lightly Beaten, with a 2 Teaspoons of Milk, for Glaze
Directions:
Preheat the oven to 425°F. Divide the pastry into 6 equal pieces, then roll out each piece to about 8″ to 9″ in diameter. If you use the pre-made refrigerated brand, we use 1 crust per pasty. It gives you a larger pasty with more filling. They are also pre-rolled, and all you need to do is fill and fold.
In a large mixing bowl, combine the steak, vegetables, Savory Onion Blend, black pepper and 2 tablespoons water. The water adds a bit of moisture to what can be a lean cut of beef. Let set for about 10 minutes to allow the herb mixture to absorb the water a bit. Spoon an equal amount onto each pastry round. You should have enough filling for 4 to 6 pasties depending how much filling you have and how large you make them.
Brush the pastry edges with water, then fold over the filling. Crimp the edges firmly together to seal. You roll the edge over as you crimp it. The crimp is important with a Cornish pasty, as you can see when you see pictures of pasties over in Cornwall. Cut a small slit in the top to let the steam escape.
Use a wide spatula to transfer the pasties to a baking sheet, either lightly greased or lined with parchment paper. We use parchment paper. Brush each one with a bit of the beaten egg mixture. Try not to let it run onto the sheet, or it can burn on tray and under the edges.
Bake the pasties for 15 minutes, Reduce the oven temperature to 325°F and bake for another 45 minutes. Serve hot or cold. They are traditionally served with beef gravy, but many like to eat theirs without. We usually serve ours with mashed potatoes and peas. If you don't have any beef gravy to use, you can make some from low-sodium beef broth, then thickened as you would with any gravy.