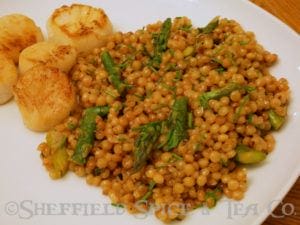 Israeli Couscous with Asparagus and Pine Nuts
Israeli Couscous with Asparagus and Pine Nuts is a delicious way to cook Israeli Couscous, also known as pearl couscous. Lightly browning the couscous adds a light, nutty flavor to the dish. The sautéed shallots, toasted pine nuts and asparagus add additional flavors. The garlic, lemon and other spices in our Mount Olympus Seasoning add a savory layer of flavor to the dish. The result will have your guests asking for more.
Israeli Couscous with Asparagus and Pine Nuts has a great flavor to accompany many dishes. Seafood, Italian, Middle Eastern, and even burgers and steaks. You can also add some pan-roasted chicken and you have an entrée.
Serves 4
Ingredients:
6 Tablespoons Extra Virgin Olive Oil, Divided
2 ½ Tablespoons Fresh Lemon Juice
2 Teaspoons Minced Garlic, Divided
2 Tablespoon Sheffield's Mount Olympus Seasoning Blend, Divided
¾ Cup Pine Nuts
2 Large Shallots Finely Chopped Shallots, about ⅔ to ¾ Cup
2 Cups Israeli Pearl Couscous
1 Teaspoon Sea Salt
2 ¼ Cups Chicken or Vegetable Broth. More if needed.
1 Pound Asparagus Spears, Medium Thickness, Fibrous Ends Trimmed Off, Cut into ¾" Pieces.
⅓ Cup Chopped Fresh Chives
Directions:
To make the dressing, in a small mixing bowl, add 2 tablespoons of the olive oil, the 2 ½ tablespoons of the lemon juice, 1 teaspoon of the minced garlic, and 1 tablespoon of the Mount Olympus Seasoning. Whisk to combine. Set aside until needed.
Add 1 tablespoon of olive oil to a large saucepan. Heat over medium low heat. Add the pine nuts. Stir constantly for about 5 minutes until golden brown. Watch closely since they can burn real fast. Transfer to a small bowl.
Add 2 tablespoons of the olive oil to the same pan. Increase the temperature to medium. Add the shallots and sauté until golden, about 5 minutes. Add the couscous and the teaspoon of salt. Sauté about 5 to 7 minutes until most of couscous is golden brown. Add the 2 ¼ cups of broth. Increase the temperature and bring to a boil. Reduce the heat to medium low, cover, and simmer about 10 minutes until liquid is absorbed and couscous is tender. Add more broth if needed if the couscous is too dry. Don't add too much extra broth or it will be mushy.
While the couscous is cooking, add the remaining tablespoon of oil to a medium non-stick skillet over medium high heat. Add the asparagus, the remaining teaspoon of minced garlic and the remaining tablespoon of Mount Olympus Seasoning. Sauté about 3 to 5 minutes until crisp-tender. Transfer to a large bowl.
Add the cooked couscous to the bowl. Add the pine nuts and chives. Drizzle the dressing over the mixture. Gently toss to mix. Serve warm.
Israeli Couscous with Asparagus and Pine Nuts is a great accompaniment to many dishes. We serve it with shrimp, scallops and other seafood dishes. But, you can serve it as a side dish with Italian, Middle Eastern and so many other dishes.