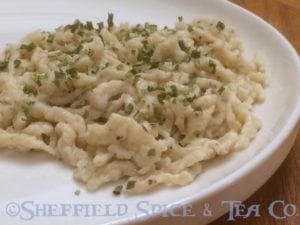 Spaetzle
Do you like Spaetzle and can't find a good German or Bavarian restaurant around? This recipe is easy and is one of our favorites. We'll make it instead of potatoes with chicken or anytime we get a taste for it. Using a spaetzle maker to drop the dough into the water is best, but you can use a colander which has larger holes, so that the dough can be pressed through and into the water.
If you are looking for a delicious recipe to serve the Spaetzle with, try our Bavarian Roasted Chicken.
Serves: 4
Ingredients:
1 Cup All-purpose Flour
1 Teaspoon Sea Salt
½ Teaspoon Ground Black Pepper
½ Teaspoon Ground Nutmeg
2 Large Eggs
¼ Cup Milk
3 Tablespoons Butter (unsalted if you have it)
2 Tablespoons Minced Fresh Chives to garnish (optional)
Directions:
In a large mixing bowl, combine the flour, salt, pepper, and nutmeg. In another medium mixing bowl, whisk the eggs and milk together. Make a well in the center of the dry ingredients and pour in the egg-milk mixture. Gradually mix together and combine well. The dough should be smooth and thick. Set dough aside to rest for about 15 minutes.
Bring 3 quarts of salted water to a boil in a large pot, then reduce to a rolling simmer. To form the spaetzle, hold a spaetzle maker over the simmering water. Push the dough through the holes as the spaetzle maker instructions show or use a larger-hole colander and push the dough through the holes with a spatula or spoon. Do this in batches so you don't crowd the pot. Cook for 3 to 4 minutes or until the spaetzle floats to the surface, stirring gently to prevent sticking. Transfer the spaetzle into a colander and give it a quick rinse with cool water.
Melt the butter in a large skillet over medium heat and add the spaetzle. Toss to coat. Cook the for about 2 minutes to give the noodles some color. Adjust salt and pepper to taste. Transfer to a serving bowl and top with the chopped chives.