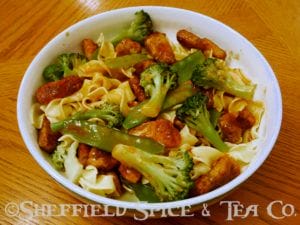 Asian Style Pork Noodles
Asian Style Pork Noodles are easy to make and so delicious. The sauce, made with orange juice, hoisin sauce, and cider vinegar has an orangey, sweet & sour flavor, which is classically Asian. We use our Chophouse Seasoning to season the pork strips. We blended it with garlic, onion and ginger, plus additional spices, which are essential flavors in Asian cooking.
Broccoli and snap or sugar peas tossed with the noodles and pork strips, stay crisp just as you find in a stirfry recipe. For a change, you can also use beef or chicken in place of the pork. You can also leave out the pork and substitute additional vegetables like red and green bell peppers, mushrooms and some cubed extra-firm tofu for a vegetarian/vegan dish.
Serves 4 to 6
Ingredients:
1 Pound Boneless Pork Loin. Slice into ½" pieces, then cut into ½" strips.
3 Tablespoons Cornstarch
2 Tablespoons Sheffield's Chophouse Seasoning
3 tablespoons Olive Oil, or Other Vegetable Oil
3 Tablespoons Cider Vinegar
¼ Cup Hoisin Sauce
¼ Cup Fresh Orange Juice
½ Cup Vegetable or Chicken Stock
2 Tablespoons Ketchup
Kosher Flake Salt
1 Pound of Broccoli florets. (We buy broccoli crowns to lessen waste.)
8 Ounces Wide Egg Noodles (or Udon noodles of you prefer)
8 Ounces Snow Peas or Sugar Snap Peas. Trim off ends.
Directions:
To make the sauce, in a small mixing bowl, add the vinegar, hoisin sauce, orange juice, stock, ketchup, and ¾ teaspoon of salt. Whisk well then set aside until needed.
Trim the ends of the broccoli crowns. Break the crowns into florets with some stem attached. Cut in half if the florets are too large.
Cook the noodles in a large pot of salted water, until al dente according to the package directions. Add the broccoli florets and peas during the 2 to 4 minutes of the cooking depending on desired crispness. Transfer to a large bowl.
Place the pork strips on a plate. Sprinkle them evenly with the Chophouse Seasoning on all sides to coat. Put the corn starch in a bowl. Dredge the seasoned pork strip in the corn starch, shaking off any excess.
In a large skillet, heat the oil over medium high heat. When it starts to shimmer, add the pork strips and sauté about 3 to 4 minutes until lightly browned and cooked through. Toss frequently and don't let overcook or burn. Add the sauce and toss to combine. Bring to a boil and let cook for another minute to thicken a bit. Carefully pour into the bowl over the noodles and vegetables. Toss to combine. Serve immediately.