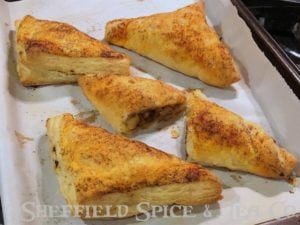 Beef and Potato Hand Pies
These Beef and Potato Hand Pies are so savory and delicious. They are also easy to make. Many cuisines have versions of hand pies, both as main dishes and desserts. What do you think a turnover or a pasty is? Our recipe uses puff pastry, while some use a pie crust type pastry. The puff pastry provides a light, flaky texture. Our version also adds some golden raisins to the filling. The slight sweetness is like you would find in a mincemeat filling, complimenting the savory flavor of the beef and potatoes. You can make them without the raisins but try some first, you'll be surprised at the flavor.
Once you are familiar with making this version, you will be able to imagine using other fillings like diced or shredded cooked chicken, or adding a bit of shredded cheese. Just be careful to keep the filling to about ⅓ of a cup or you won't be able to fold over the pastry and seal the triangle.
Makes 8
Ingredients:
1 Tablespoon Extra Virgin Olive Oil
1 Small Yellow Onion, Diced
1 Teaspoon Kosher Salt
1 Teaspoon Freshly Ground Black Pepper
2 Garlic Cloves, Minced
½ Pound Lean Ground Beef
1 Tablespoon Smoked Paprika
1 Medium Yukon Gold Potato, Diced
½ Cup Golden Raisins (optional)
All-purpose Flour
2 Sheets Frozen Puff Pastry, Thawed
Additional Smoked Paprika, Kosher Salt and Ground Black Pepper
Directions:
Preheat oven to 400°. Add Olive Oil to a large skillet over medium-high heat. Add the diced onion. Cook about 5 minutes until until translucent. Add the garlic and cook another 30 seconds. Add the ground beef, salt and pepper. Cook about 5 minutes until browned. Break up with a spatula while cooking. Sprinkle the smoked paprika on the browned beef and stir to combine. Add the diced potato and raisins. Stir again to combine. Adjust the salt and pepper to taste. Remove from heat and cover to keep warm.
Lightly flour a large cutting board or other work surface. Roll out the puff pastry sheets carefully, smoothing out the creases. Cut each sheet into 4 squares. Place ⅓ cup beef mixture in center of each pastry square. Lightly brush the edges of the squares with water. Fold the pastry over the filling to form triangles. Press the edges to seal each pastry. Sprinkle with extra paprika. Using a tea strainer works well. Line 2 shallow baking sheets with parchment paper. Transfer the pastries onto the sheets. Bake 20-25 minutes until golden brown and puffed up. Cool 5 to 10 minutes, then serve. A mixed greens salad is a perfect accompaniment.