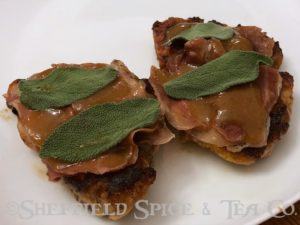 Chicken Saltimbocca
Our Chicken Saltimbocca is a classic version of Italian Chicken Saltimbocca. We might enjoy it at our favorite Italian restaurant, but never think of preparing it at home. It's actually quite easy to make, and the flavor is just as good. This has the traditional flavors of prosciutto and sage. The lemony sauce adds the proper finishing touch. Our Seasoning Salt adds that little extra flavor to make it even better than the restaurant. Add a small pasta side dish or a mixed greens side salad with Italian Dressing and there's your dinner.
Serves 4
Ingredients:
4 boneless, skinless chicken breast halves, about 6 oz. each, lightly pounded to an even thickness
1 Tablespoon Sheffield's Seasoning Salt
⅓ Cup Flour
2 Tablespoons Butter
1 Tablespoon Olive Oil
1 Teaspoon Dried Sage, plus Fresh Sage Leaves for Garnish (Optional)
2 Thin Slices Prosciutto, and Cut in Half to Fit Chicken Breasts
1 Cup Low-sodium Chicken Broth
1 Tablespoon Fresh Lemon Juice
2 Teaspoons Corn Starch
Directions:
Lightly season both sides of the chicken breasts with the Seasoning Salt. Spread the flour on a plate and dredge each breast. Coat evenly then shake off the excess. Set aside.
Add the chicken broth, lemon juice and corn starch to a small mixing bowl. Whisk to combine and set aside.
Heat a large skillet over medium to medium-high heat. Melt 1 Tablespoon of the butter with the olive oil. When the oil starts to shimmer, add the chicken breasts and cook about 5 to 6 minutes until golden brown on the undersides. Watch closely since they can burn if cooked too long or the heat is too high. Turn them over and continue to cook another 4 to 6 minutes until thoroughly cooked and feel firm when pressed in the centers.
Turn the heat down low. Sprinkle the chicken evenly with the dried sage. Top each breast with a piece of prosciutto. If all the liquid has dried up, add a tablespoon or two of chicken broth or water. Cover the pan and cook for another minute or two max, just long enough for the prosciutto to heat up. Transfer to a serving plate and loosely cover with aluminum foil.
Increase the heat to medium-high. Stir the chicken broth mixture and add to the pan and bring to a boil. Stir to deglaze the pan, scraping up any browned bits on the pan bottom. Boil about 2 to 3 minutes until reduce a bit and slightly thickened. Remove from the heat and whisk in the remaining tablespoon of butter until melted.
Plate each chicken breast, spoon the sauce equally over each breast, and garnish with 1 or 2 sage leaves. Serve immediately.