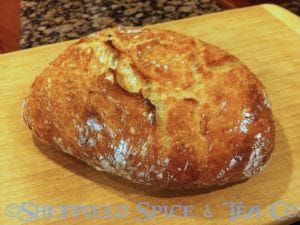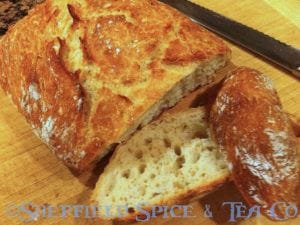 Easy Crusty Bread
Our Easy Crusty Bread is such an easy recipe. So while this recipe is probably very old as you can see early cooks making this in a pot over a hot fire, it is surprising how many people have never made it before.
It has a great flavor as is. And what makes this bread special is that the way it is made, it sets up a great crispy crust. But we really like besides the great crust is that we can add Dill, Rosemary, Thyme or other herbs. So you can have a great plain Crusty Bread, or add some herbs for extra flavor. It is so good with a steaming bowl of soup or stew, as your dipping bread along side your Italian feast or anytime you need a hearty bread. It is such a great tasting basic bread, you can customize it in other ways besides herbs. Maybe some shredded Asiago cheese, chopped Kalamata olives, Cracked Pepper? Have fun.
Ingredients:
3 cups unbleached all purpose flour
1 3/4 teaspoons sea salt
1 /2 teaspoon yeast
1 1/2 cups water
Optional herbs:
Add 1 Tablespoon (adjusted for your taste) Dill, Rosemary, Thyme, or other herb of your choice.
Directions:
In a large mixing bowl, whisk together the flour, salt and yeast. Add water and mix until a shaggy
mixture forms. Cover the bowl with plastic wrap and set aside for 12 – 18 hours. If you have time, letting it set overnight works even better.
Heat your oven to 450 degrees. When the oven has reached 450 degrees place a cast iron pot
with a lid in the oven and heat the pot for 30 minutes.
If you don't have a cast iron pot with a lid, you can use another heavy, Dutch Oven type pot with a tight fitting lid. We used a heavy anodized pot but those enameled cast iron pots would work equally as well. Heavy and with a lid is the key.
While the pot is heating, put dough on a heavily floured surface. Shape into a ball, cover with plastic wrap and let set while the pot is heating. Remove heated pot from the oven and drop in the dough. Cover and return to oven for 30 minutes. After 30 minutes remove the lid and bake an additional 15 minutes. Remove bread from oven and place on a cooling rack to cool…..and enjoy.