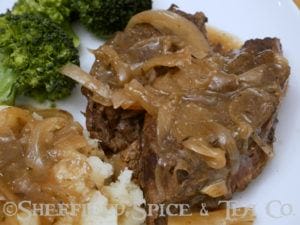 French Onion Pot Roast
French Onion Pot Roast is the best of both worlds. It's a classic pot roast, with the savory flavor of French Onion Soup, with a generous amount of onions. We use our Parisian Café Blend for the main seasoning, which gives the roast a very savory flavor. Along with the other ingredients and you have a dish worthy of any little French bistro in Paris. Add a potato side dish and a green seasonal vegetable and your meal is complete.
Serves 4
Ingredients:
2 Pound Chuck Roast
2 Teaspoons Kosher Flake Salt, or to Taste
2 Teaspoons Freshly Ground Black Pepper, or to Taste
2 Tablespoons Butter
1 Tablespoon Olive Oil
2 Large Onions, Thinly Sliced and Divided
3 Cloves Garlic, Minced
2 Cups Beef Broth
1 Tablespoon Worcestershire Sauce
1 Tablespoon Apple Cider Vinegar
2 Tablespoons Sheffield's Parisian Café Blend
1 Bay Leaf
1 Tablespoon Sugar
4 Tablespoons Flour
½ Cup Water
Directions:
Season the chuck roast with the salt and pepper on both sides. Add the butter and oil to a large skillet on medium high heat. When the butter melts and the oil starts to shimmer, carefully add the roast to the pan. Brown about 3 minutes on each side. Transfer to a plate until needed.
Turn your Slow Cooker on low setting. Add ½ the onions, the garlic, beef broth, Worcestershire sauce, apple cider vinegar, Parisian Café Blend, and sugar. Stir a bit to combine.
Transfer the roast to the slow cooker, and add the rest of the onions. Ladle some of the liquid on top of the onions and roast to let the flavors mingle a bit. Cook on the low setting for 6 to 8 hours until the roast is fork-tender and starts to fall apart. Transfer the roast to a plate, and cover with foil to keep warm. Transfer the gravy to a large sauce pan. Remove the bay leaf. Bring to a boil.
In a small mixing bowl, whisk the water and flour together until well combined. Add half the mixture to the sauce pan and whisk to combine. Cook for a few minutes and continue to whisk until the gravy starts to thicken. Add the rest of the mixture if it is too thin.
Cut the roast into portions and serve with some of the gravy. The French Onion Pot Roast plates well with mashed, small pan-roasted potatoes, or other potato of your choice. Add a green vegetable and you'll think you're at a little French bistro in Paris. Bon appétit!