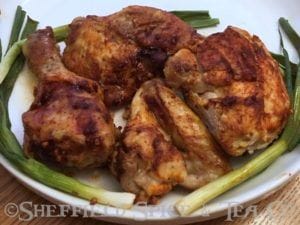 Honey Garlic Chicken
Honey Garlic Chicken is a recipe we had in our personal archives from long ago. We updated it a bit to keep it simple. Our friends seem to like chicken recipes the best, so when we looked through our recipe files, we found this one which combines garlic, smoked paprika and honey for the main flavors. Garlic and honey always adds a great flavor to chicken. The paprika and other spices add onto this flavor base. The garlicky, sweet honey flavor is always delicious with chicken. You can also use pork chops with this recipe.
If you prefer, you can also grill the chicken outdoors. Just set up your grill for indirect grilling, making sure the temperature is 400 degrees. Any hotter and the chicken will burn and dry out. Any cooler and it won't cook thoroughly.
Serves 4
Ingredients:
3 Tablespoons Smoked Spanish Paprika
3 Tablespoon Honey
3 Tablespoon Sherry Vinegar (or Champagne, White Wine or White Distilled Vinegar)
2 Tablespoon Garlic, Minced Fine Smashed Flat
1 Fryer Chicken Cut into 8 Pieces (About 3 to 4 Pounds)
2 Teaspoons Sea Salt
2 Teaspoons Freshly Ground Black Pepper
8 Scallions, Both Ends Trimmed Off
Prepared Wild Rice Side Dish for Serving
Directions:
Heat oven to 400°F. Place the rack in the middle position.
In a small mixing bowl, add the smoked paprika, honey, vinegar, and garlic. Whisk well to combine. Brush half of the mixture evenly on the chicken pieces. Sprinkle with half of the salt and pepper.
Transfer the chicken pieces to the roasting pan. Roast 30 minutes uncovered. Turn the chicken pieces over and brush the rest of the mixture and sprinkle the rest of the salt and pepper on the chicken pieces. Lay the scallions on top of the chicken. Roast for another 15 to 20 minutes or until chicken is browned and cooked thoroughly with an internal temperature of 165 degrees, and golden brown on both sides. Ladle the sauce in the pan on the chicken pieces.
Prepare the rice dish according to the package directions while the chicken cooks, so it is ready at the same time as the chicken. Serve the chicken on top of or along side the rice with the scallions. We usually prepare a wild rice dish, but you can also serve over a rice pilaf, herb noodles, or other suitable side dish.