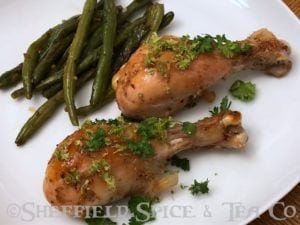 Honey Lime Chicken Legs
Honey Lime Chicken Legs is a recipe we've had for many years. The sweetness of the honey, combined with the lime citrus flavor and other spices, gives a fresh flavor perfect for any dinner. Chicken legs stay moister than chicken breasts, and removing the skin reduces the fat in the recipe. The flavor of the leg meat is also more savory. All you need is a side dish or two and you're ready for dinner.
If you are looking for a great side dish to accompany these Honey Lime Chicken Legs, try our Dill Herbed Potato Salad. The flavors go well together.
Serves 4
Ingredients:
2 Limes
½ Cup Honey
3 Garlic Cloves, Crushed with Garlic Press
1 Teaspoon Ground Coriander
1 Teaspoon Sea Salt
½ Teaspoon Freshly Ground Black Pepper
12 Chicken Legs, Skin Removed
¼ Cup Fresh Parsley, Coarsely Chopped
Directions:
Preheat oven to 450F, positioning the rack in the center position.
Grate the zest from the limes and set aside.
In a small mixing bowl, add the honey, juice from the 2 limes, crushed garlic, ground coriander, salt and pepper. Whisk to combine well.
Place the chicken legs in a mixing bowl large enough to hold all of them. Pour the honey lime mixture over the chicken. Toss to coat them well.
Arrange chicken legs on a shallow baking sheet. Spoon the lime mixture over chicken. Place pan on the oven rack and bake for 30 to 35 minutes until the chicken is thoroughly cooked to an internal temperature of 165F. Brush the chicken with the pan juices every 10 minutes.
Transfer chicken to a serving platter. Spoon the pan juices over the legs. Sprinkle with remaining lime zest and chopped parsley.