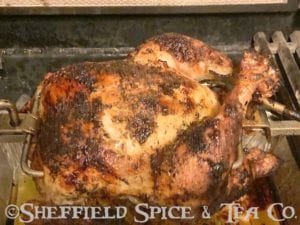 Irish Rotisserie Chicken
Irish Rotisserie Chicken is a twist on our favorite rotisserie chicken recipe. For the rub, we use our Irish Roast Chicken Seasoning, one of our most popular chicken seasonings. House-crafted from thyme, Spanish paprika, garlic, onion and other spices, the result is a very savory roasted chicken just waiting for a couple side dishes to complete your dinner. The rotisserie also gives your chicken a nice golden brown, crispy skin loaded with great flavors.
We rotisserie chicken dinners throughout the year, regardless of the weather. But if you don't have a rotisserie, you can make this recipe indoors in the oven. Just prepare the chicken the same way, place in roasting pan in the oven, and roast uncovered at 375 degrees for about 1 ¼ to 1 ½ hours or the internal temperature reaches at least 165°F in the thickest part of the thigh (not touching the bone). Cover and let rest 10-15 minutes before carving and serving.
We will usually serve our rotisserie chicken with roasted potatoes, which for this recipe also uses our Irish Roasted Chicken Seasoning. This is one more way to use this very versatile seasoning. Add a side vegetable of your choice and you're ready to impress your guests. For the Irish Roasted Potato Recipe, please click HERE.
Serves 4
Ingredients:
1 whole chicken, about 3 to 4 pounds
1 to 2 Tablespoons Coarse Kosher Salt for inside the chicken
Extra Virgin Olive Oil
2 Tablespoons Sheffield's Irish Roast Chicken Seasoning
Directions:
Set up your grill to medium indirect heat. If using charcoal, set up indirect with coals on one side. You want the temperature to be between 350 and 400 when ready to put the chicken on.
Rinse chicken inside and out. Pat dry and cut off any excess fat. Rub the Kosher salt inside. Truss the chicken with butchers twine. Brush the olive oil all over to give it a light coating. Evenly sprinkle the chicken with the Irish Roast Chicken Seasoning. Put the chicken on the rotisserie spit.
Check the grill temperature to make sure its between 350 and 400. Put the spit in place, turn on the motor and close the cover. Make sure you have a drip pan underneath the chicken. Check after 15 minutes to make sure you don't have the temperature over 400 degrees, which would cause the outside of the chicken to burn. Check the internal temperature at about an hour. You want 165°F in the thickest part of the thigh (not touching the bone). Cook another 15 or so minutes if needed. When done, remove the spit from the grill with grill gloves. Place the chicken on a cutting board or plate, remove the spit, cover and let rest 15 minutes before carving and serving.