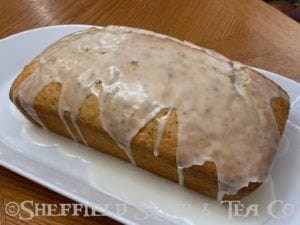 Lemon Lavender Poppy Seed Loaf
Lemon Lavender Poppy Seed Loaf is easy to bake and delicious to go along with your cup of tea. Enjoy a slice or two at breakfast or in the afternoon for your teatime snack. If you're planning to have some friends over, then this is a nice, light dessert to accompany your meal. The loaf has a light lemon and lavender flavor, the poppy seeds add a bit of a nutty flavor, while the lemon glaze adds an extra lemony touch.
This recipe will make one standard size loaf, or 3 mini-loaves. The mini loaves are the perfect size to give as gifts around the holidays. You can adjust the lemony flavor by adding extra lemon zest to the batter.
8-10 Servings
Ingredients:
For the Loaf
2 Cups Unbleached All-purpose Flour
¾ Cup Granulated Sugar
4 Teaspoons Poppy Seeds
1 Tablespoon Dried Lavender Buds, Chopped a bit
1 Tablespoon Baking Powder
¾ Teaspoon Sea Salt
1 Cup Whole Milk
2 Large Eggs
1 Teaspoon Vanilla Extract
1 Tablespoon Fresh Lemon Zest
½ Cup Butter, Melted and Cooled
For the Glaze
1 Cup Powdered Confectioners Sugar, Sifted
4 to 6 Teaspoons Fresh Lemon Juice, plus more if needed
Directions:
Make the bread
Heat your oven to 350°F. Set rack in center position.
Butter then flour the bottom and sides of either a standard 9 x 5-inch loaf pan, or 3 mini loaf pans. Tap out any excess flour.
In a large mixing bowl, add the flour, sugar, poppy seeds, lavender, baking powder, and salt. Whisk to combine well.
In a medium mixing bowl, add the milk, eggs, vanilla, and lemon zest. Whisk to combine well. Pour into the bowl with the dry ingredients. Add the melted butter. Fold into the mixture with a silicone spatula until blended.
Pour the batter into the loaf pan(s) and spread evenly.
Bake for 50 to 55 minutes, if using one standard size pan, until golden brown on top and an inserted toothpick comes out clean. Rotate halfway through. Reduce the time to 40 to 45 minutes if using 3 mini pans.
Let cool in the pan on a rack for 30 minutes. Invert the pan, removing the loaf. Set right side up on the rack and let cool completely. While cooling, prepare the glaze.
Prepare the Glaze
In a medium mixing bowl, add the sifted powdered sugar and 4 teaspoons of the lemon juice. Stir with a spoon until smooth. Add more juice, 1 teaspoons at a time, until the glaze is just pourable. Don't make it too thin or it won't stick to the loaf. Drizzle the glaze over the loaf. Let set for 30 minutes before cutting. Store any extra in a covered container at room temperature for up to 2 days. We think you'll love it so much, you probably won't have any leftovers. Enjoy.