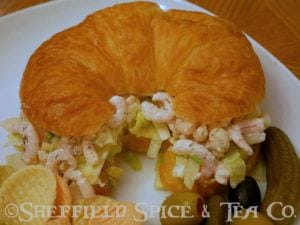 Shrimp Salad Croissants
Shrimp Salad Croissants are a favorite Summer fare at family gatherings. You can also serve the shrimp salad on a bed of lettuce for a light entrée. We have both enjoyed versions in our families over the years. Our version uses our Sheffield's Chesapeake Bay Seasoning, which we blended for seafood recipes, but has many other uses. The seasoning adds a very fresh flavor to the shrimp, while the other ingredients further compliment the shrimp. We think you'll enjoy our version as much as we do.
We will serve our Shrimp Salad Croissants with some chips or a selection of pickles, green & black olives, or even some dried fruits.
Makes 4 Servings
Ingredients:
12 oz Cooked Salad Shrimp. If you cook your own, use Extra Small or Tiny size.
⅔ Cup Mayonnaise (You can use Greek Yogurt)
1 ½ Teaspoons Sheffield's Chesapeake Bay Seafood Seasoning
2 Teaspoons Dried Dill Weed (If using fresh, chop fine.)
½ Teaspoon Fresh Lemon Juice
½ Teaspoon Worcestershire Sauce
½ Teaspoon Tabasco Sauce
1 Cup Celery (about 2 stalks), Finely Diced
1 Tablespoon Scallions, Chopped. Use just the green tops
Shredded Lettuce
4 Croissants
Directions:
Thaw the shrimp, then gently squeeze out excess water and pat dry. If using raw shrimp, cook as directed on the package, drain the excess water then pat dry. If you don't remove the excess water, your shrimp salad will be watery. The shrimp should be dry.
In a medium mixing bowl, add the mayonnaise, Chesapeake Bay Seasoning, dill weed, lemon juice and Worcestershire sauce. Stir to combine well. Add the diced celery and scallions. Stir again, and set aside for about 10 minutes to let the flavors mingle a bit.
Slice the croissants in half. Add some shredded lettuce. Evenly divide the shrimp salad between the 4 rolls, and serve immediately.
Serve with some cornichons, black olives, stuffed green olives, or even a few pieces of dried fruit like apricots or cherries. A side of chips work well too. Enjoy!