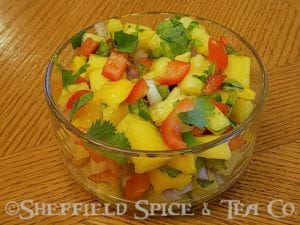 Spicy Pineapple Mango Salsa
Spicy Pineapple Mango Salsa is a fruit salsa served with grilled fish, chicken, pork and most other Southwest and Mexican dishes. Either serve on the side, or spoon over your entrée. The flavors go so well together. It is also excellent with your barbecue dishes, like chicken or ribs. The sweetness of the pineapple and mango, pairs well with the tanginess of the BBQ sauces.
It makes a great fruity pico de gallo and served with chips. Use as a salsa for your tacos, especially fish tacos or tacos as pastor. Once you've made it once, you'll find other ways to use it as a topping or side dish.
If you are looking for a recipe for a perfect pairing, then look at our Hawaiian Glazed Shrimp with Pineapple Mango Salsa.  For the recipe, please click HERE.
Makes about 4 Cups
Ingredients:
2 Cups Fresh Pineapple, Cut into ½" Chunks
1 Cup Mango, Cut into ½" Chunks
1 Jalapeno Chile, Diced Fine (Remove seeds if you don't want it too spicy)
½ Red Bell Pepper, Diced into ¼" Pieces
¼ Cup Red Onion, Diced into ¼" Pieces
¼ Cup Fresh Cilantro Leaves, Rough Chopped (Remove Stems)
2 Tablespoons Fresh Lime Juice
1 Teaspoon Kosher Sea Salt
2 Teaspoons Sugar, optional if mango isn't sweet
Directions:
In a large mixing bowl, add the pineapple, mango, diced jalapeno, chopped cilantro, and red onion. Gently toss to combine. Add the salt, optional sugar and lime juice. Gently toss again to combine. Cover and refrigerate for 30 to 60 minutes before serving. Store leftover salsa in a covered container in your refrigerator for 3 to 4 days.