Turkish Marinated Chicken Kebabs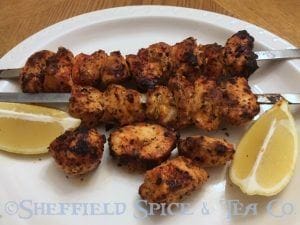 Urfa Biber is a very flavorful chile pepper. Somewhat sweet and chocolatelty, with hints of smokiness, it is a common chile pepper in Turkey. It is used in marinades, as a rub and as a condiment just as we use salt & pepper. Over here we use it many other ways. We have many other ideas how to use it on our website. Click HERE.
Serve with a traditional rice pilaf or basmati rice and pita bread for a complete meal. Use torn pieces of the pita bread to pick up the chicken instead of using a fork. We hope you enjoy the Turkish Marinated Chicken Kebabs as much as we do.
Serves 3-4
Ingredients:
2 Pounds Skinless Boneless Chicken Breast Halves, (about 3 or 4 medium), cut into 1 ½ inch Cubes
1 ½ Tablespoons Urfa Biber Pepper Flakes, plus additional for Garnishing
2 Teaspoons Spanish Sweet Paprika, plus additional for Garnishing
3 Tablespoons Warm Water
3 Tablespoons Extra Virgin Olive Oil
2 Tablespoons Red Wine Vinegar
1 Cup Plain Whole Milk Greek Yogurt
2 Tablespoons Tomato Paste (You can also make what you need from Tomato Powder and water.)
1 Tablespoon Minced Garlic
2 Teaspoons Kosher Salt
1 Teaspoon Freshly Ground Black Pepper
2 Lemons Unpeeled – 1 cut into thin slices for marinade and one into wedges for serving
4 Flat metal skewers
Directions:
In a medium mixing bowl, place the Urfa Biber Pepper, Sweet Paprika and the 3 tablespoons warm water. Stir a bit allowing the water to be absorbed. Let stand about 5 minutes. Add the olive oil, red wine vinegar, yogurt, tomato paste, garlic, salt, and black pepper to the mixture. Mix well to blend. Add the lemon slices, stir them in, then add the chicken. Cover the bowl and refrigerate for 1 to 2 hours to allow the flavors to develop. The yogurt helps make the chicken tender.
Prepare a medium-high grill. Thread the chicken pieces on the 4 skewers, dividing them equally. Discard the leftover marinade.
Sprinkle the chicken with a bit more Urfa Biber, paprika, salt and pepper. Brush the grill with oil to help prevent the chicken from sticking. Grill the chicken about 5 to 6 minutes, then turn over and grill another 5 to 6 minutes until golden brown and fully cooked. Don't overcook or it will dry out. Transfer the skewers to a serving plate. Serve with the lemon wedges and an extra sprinkle of Urfa Biber.