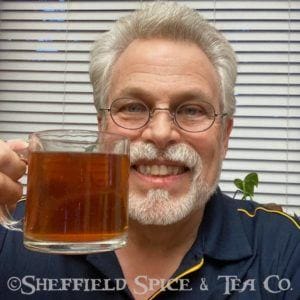 Cherry Almond Black Tea – Rick's Tea Face
January is a month when I drink a number of my favorite teas. It's because January is a month when Cheryl and I have lost a number of relatives, and friends, and what better way to remember them but to sit around, tell stories and sip a favorite tea. It's kind a comfort food thing just with tea. But with a fair number of favorites, which do we choose?
For this cup of reminiscing, I am sipping Cherry Almond Tea. I like this tea since it has a great flavor with both the cherry and almond flavors nicely pronounced. It also brings back the memory of Paris. Before we opened our store, we brought a cherry almond tea back from Paris and I was immediately taken by it. We searched our blenders for several years and couldn't find a flavor even close. Then one of our blenders came up with this Cherry Almond and that was it. I had a tea I loved and we had a tea which became an instant hit and its popularity continues to grow.
So, it's a multi-memory tea, which isn't bad. It sips easy while we share stories and memories of our friends and loved ones. Seven years ago this week, we lost Cheryl's mother. She loved Las Vegas, and stayed in touch with my mother back in Michigan after she moved out here over 40 years ago. She had some interesting friends so we have many stories, which can require 2 cups of tea.
Now, back to the tea. Cherry and Almond are 2 flavors which are quite popular around the world by individually as well as paired up in baking usually. If you are a fan of either flavor, then this tea is a must. And if you've had the pleasure of sipping it already, then you know how good it is, so share it with your friends. They will thank you too.
For more information and even more stories about the cherry and almond flavors around the world, please click HERE.
Well, back to my tea and stories. Cheers!