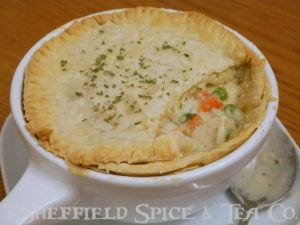 Savory Chicken Pot Pies
Our Savory Chicken Pot Pies are the best we have ever eaten. Not just because homemade is always the best, but our Parisian Café seasoning and other spices bring out the flavor of the chicken and vegetables in a way you can't get in a frozen pie. Oven roasting the chicken breasts gives you that flavor you want if you were eating the chicken by itself. The filling has a nice rich consistency. These pot pies are a complete meal themselves.
Makes: 4
Ingredients:
2 Boneless, Skinless Chicken Breasts, 1 to 1 ½ Pounds Total
1 Tablespoon Olive Oil
2 Tablespoons Sheffield's Parisian Café Seasoning
1 Teaspoon Dried Rosemary
1 Teaspoon Dried Thyme
Sea Salt
Freshly Ground Black Pepper
6 Tablespoons Butter
1 Cup Onion, Diced
¾ Cup Celery, Diced Small
6 Tablespoons Flour
2 Cups Chicken Stock
1 Cup Half-and-half
1 Cup Carrots, Diced and Blanched for 2 Minutes
2 Cups Potatoes, Diced and Blanched for 3 Minutes
1 Cup Frozen Small Peas, Thawed
2 Boxes of Pre-made Pie Crusts, enough for 4 pot pies. You can make your own, but this saves time
4 6″ Ramekins, or other oven-proof 16 oz. baking dishes
Directions:
Preheat the oven to 400OF. In a medium mixing bowl, add the chicken and olive oil. Toss to coat. Sprinkle the Parisian Café, thyme and rosemary on the chicken to coat evenly on both sides. Lightly spray an 8″ x 8″ glass baking with non-stick cooking spray. Transfer the chicken to the dish and cook uncovered for 25 to 30 minutes, or until they reach an internal temperature of 165OF. Remove from oven, cut into ¾" inch cubes. Set aside until needed.
In a large stock pot, melt the butter over medium heat. Add the onions and celery and sauté for 2 minutes. Add ½ teaspoon salt and 1 teaspoon pepper. Add the flour and cook for 3-4 minutes, stirring constantly, until well combined and it starts to turn a light golden color. Don't burn.
Add the chicken stock, stir to combine and raise the temperature. Bring to a boil, then reduce to a simmer and cook for 4-5 minutes, or until the sauce thickens. Stir in the half-and-half and cook for 4 minutes. Taste and adjust the salt and pepper if needed. Add the chicken, carrots, peas, and potatoes. Stir to combine.
Line the ramekins with the pie crusts. Trim off the excess crust. Use these trimmings to roll out into 4 tops for the pies. Ladle the filling evenly into the dishes. Add a top crust to each pot pie. Pinch the top and bottom crusts to seal and use a fork to pierce the top crust in several places to allow them to vent.
Place the pot pies on a baking sheet and bake for 25-30 minutes, or until the crusts are golden brown but not burnt. Remove from the oven and cool for at least 5 minutes before serving.