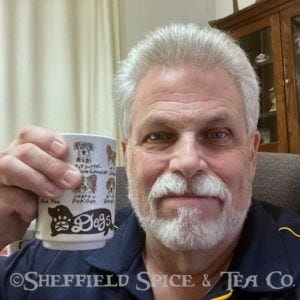 Houjicha – Rick's Tea Face 08/23/2022
I was still in a Japanese tea mood this week, and besides, I wanted to use my other Japanese yunomi tea cup; this one with cute dog pictures on it. It's been a while since I've both sipped and shown our Houjicha Tea, so it was an easy decision. Houjicha is a very unique tea with an equally unique flavor. Just looking at its roasted appearance tells you there's something different about it. We have many friends who love it, but for those who have not yet sipped it, here's a short primer.
Houjicha is an unflavored Japanese green tea, but instead of being steamed during processing, as most green teas are, it is heated in a porcelain crucible with charcoal. The result turns the tea leaf a beautiful medium brown color. The taste has a bright, slightly roasted flavor, from heating the dry leaf. The roasted scent is also captivating. There is not another tea in the world like it, which is why it has a loyal following.
You really need to check out its scent, then buy a package and let your taste buds decide if it deserves a place in your tea pantry. Houjicha isn't for everyone, but if you still need more information, please click HERE.  We hope you'll give it a taste, since it's uniqueness is worth checking out. Cheers!