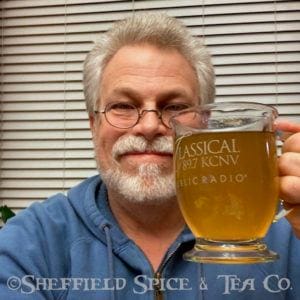 Lemony Comfort – Rick's Tea Face
I'll cut right to the chase. This is our Lemony Comfort Herbal Tea, which I talked about earlier this Fall. With the temperature going below freezing here in Las Vegas some nights, and in many parts of the country, and with the humidity going into the single digits and getting drier everywhere, I need a tea which is soothing on the throat and tastes good. Lemony Comfort is that tea for me. The huge lemony flavor is brought to you courtesy of lemongrass, Tulsi, lemon peel, lemon myrtle, and some ginger and other flavors. If you like lemon-flavored teas, this should be in your tea pantry.
Lemony Comfort is one of our most popular herbal teas and is the go-to tea for many of our friends all year long. But in the Fall and Winter months when the air is dry, throats get dry and raspy, it gets even more in demand since lemon has long been used to soothe throats. This is why I drink so much of it during the Winter. Did I mention it tastes good? Oh, I did? Well, let me say it again. It's large, soothing, lemony flavor is just what I needed today. Shouldn't you take a look at it if you're haven't had the sipping pleasure yet? Of course you should. Just click HERE.
Now, if you'll excuse me, I believe our lemon scones are ready in the oven. What, you think tea is enough on a cold, rainy night in Las Vegas? I think not. Cheers!