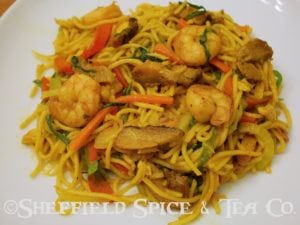 Singapore Noodles
Singapore Noodles is a traditional dish created and found in Cantonese-style restaurants in Hong Kong. There are many variations, but with common ingredients, like Char Siu, which is Chinese Roast Pork, and shrimp. If you can't find Char Siu, you can use a slice of Virginia ham, since it has a sweeter, roasted flavor. The other common ingredient is curry powder, which also gives it its signature yellow color. It's usually an Indian curry powder. We use our Madras Curry Powder, which has the flavors needed. The other ingredients commonly found in Singapore noodles is a thinner noodle, like vermicelli, thin spaghetti, or even rice noodles.
As with all stir-fry dishes, you should use a wok, but a large, non-stick skillet also works. We use a non-stick wok. Cook over medium-high heat to cook faster and retain the colors and textures of the vegetables. You also cut the vegetables in a similar style, which is long and thin for this dish and helps them cook evenly.
Serves 4
Ingredients:
6 Ounces Vermicelli or Thin Spaghetti
8 Oz (About 12) to 14 Large Frozen Shrimp (Peeled & Deveined) Thawed
2 Tablespoons Vegetable Oil
2 Eggs, Beaten
2 Cloves Garlic, Minced
4 Ounces Char Siu (Chinese Roast Pork), sliced thin. You can also use Virginia ham.
½ Red Bell Pepper, sliced thin
3 Cups (About 8 Ounces) Napa Cabbage, sliced thin
1 Medium Carrot, Cut in Half Then Sliced Thin Like Matchsticks
1 Tablespoon Shaoxing Wine. You can substitute dry sherry, or water if you prefer.
2 Tablespoons Sheffield's Madras Curry Powder.
⅛ Teaspoon White Pepper
1 Teaspoon Sea Salt or to Taste
¼ Teaspoon Sugar
2 Teaspoons Soy Sauce, or Gluten-free Tamari Sauce
1 Teaspoon Sesame Oil
2 Green Onions, cut in half then sliced lengthwise
½ Small Red Onion, sliced thin
Directions:
Put the uncooked noodles in a large pot. Pour boiling water over them. Cover and let soak for about 20-30 minutes until they are an al dente doneness. You don't want them mushy.
Heat non-stick wok over medium-high heat. Add the beaten eggs. Cook about 15 seconds so they set a bit. Turn over then cook another few seconds. Break up into rough strips with your spatula. Remove to a plate. Don't overcook and let them dry out.
Add 2 tablespoons of the oil. When it starts to shimmer, add the garlic and cook for about 15 seconds. Add the shrimp and Char Siu. Stir-fry for another 30 seconds. Add the Shaoxing wine and stir-fry for another 15 seconds.
Add the red pepper, napa cabbage, and carrots. Stir-fry for 30 seconds, then add the noodles. Stir-fry for 1 minute, carefully lifting the rice noodles with your spatula as you turn them over, mixing the ingredients. Don't be rough or you'll break the noodles, when they should longer.
Sprinkle the curry powder, white pepper, salt, and sugar evenly over the noodles. Stir-fry for about 2 minutes, using your spatula to combine all the ingredients with lifting and turning motion. Add a bit of water if the noodles appear to be drying out.
Add the soy sauce, sesame oil, and the cooked egg. Carefully mix and stir-fry for another minute. Add the green onions and red onion. Carefully stir-fry for another 30 seconds, thoroughly heating everything. Remove from the heat and serve your guests.