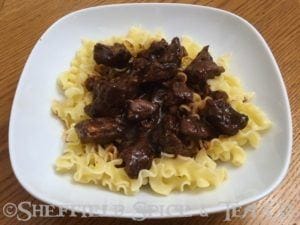 Sirloin Tips
Sirloin Tips with noodles or rice is a dish we both grew up. It's an easy and relatively fast meal. Prime Rib Seasoning gives it a wonderful, savory flavor like Sunday Roast, without the roast. We will collect the trimmed cuttings off rib eye steaks or rib roasts, and freeze them until we have enough to make the dish. If we can't wait, we will buy a couple Top Sirloin steaks and cut them up.
We will add a side dish of seasonal vegetables like green beans, steamed broccoli or Brussels sprouts to complete the meal. Yorkshire Pudding also makes a great side dish. We make sure we make enough for leftovers. It seems to taste even better the next day.
Serves 4
Ingredients:
2 Pounds Beef Sirloin Tips, Cut Into ¾" Pieces (We have also used prime rib and top sirloin.)
2 Tablespoons Sheffield's Prime Rib & Roast Beef Seasoning
Olive Oil
2 Tablespoons Butter
1 Large Onion, Chopped
2 Cups Low-Salt Beef Broth
4 Tablespoons Corn Starch or Flour and ½ Cup Cold Water for the Gravy
Kitchen Bouquet for color
Sea Salt and Freshly Ground Black Pepper to adjust flavor
Cooked Egg Noodles or Rice for serving
Directions:
In a large skillet, add 1 to 2 tablespoons of the olive oil over medium high heat. The amount of oil depends on how lean the beef tips are. Add the sirloin tips and 1 tablespoon of the Prime Rib Seasoning. Brown the beef all over, about 5 minutes, stirring frequently so it doesn't burn. Transfer to a bowl.
To the same skillet, add another tablespoon of butter and the onions. Reduce the heat to medium. Sautee about 5 to 7 minutes, until translucent. Stir frequently, scraping up any brown bits. Add the sirloin tips, 2 cups of beef broth and the remaining tablespoon of prime Rib Seasoning. Bring to a boil, then reduce to a simmer. Cover and simmer about 20 minutes. Check the tenderness. Simmer another 5 minutes or so if needed.
Add the corn starch or flour and water to a gravy shaker or large measuring cup. Shake (or whisk) well until combined. While the sauce is simmering, add a tablespoon to the skillet, stirring to combine and not clump in the simmering sauce. Check the consistency and add a bit more at a time until your gravy reaches the desired thickness. We add a tablespoon of Kitchen Bouquet to give it a richer color and add a little extra flavor we grew up with.
Adjust the salt and pepper if desired. Remove from the heat and serve over the cooked egg noodles or rice.