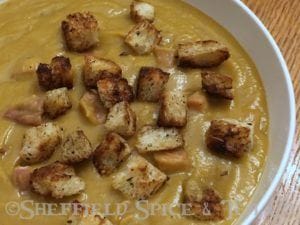 Split Pea With Ham Soup
Our Split Pea with Ham Soup Recipe is very easy, very hearty and an easy way to use up some your leftover ham, whether on Easter, or any other time you enjoy a baked or roasted ham during the year. If you don't have a ham, just use a couple smoked ham hocks or a smoke ham shank. Pick up a ham slice at the meat counter for the ham cubes, and you don't need to make a large ham for the leftovers.
Topping the soup with these homemade coutons, seasoned with our Italian Seasoning adds a specal touch. They are lighter, crispier and compliment the soup nicely.
Serves 4 to 6
Ingredients:
1 Tablespoon Olive Oil
4 Carrots, Sliced Thin
3 Celery Stalks, Sliced Thin
1 Medium Onion, Chopped
1 Tablespoon Dried Thyme
2 Teaspoons Kosher Salt
2 Teaspoons Freshly Ground Black Pepper
1 14.5 Oz Can Low-sodium Chick Broth
1 16oz Bag Green Split Peas
1 Ham Bone, (Or 2 Smoked Ham Hocks or 1 Smoked Ham Shank)
2 Cups Ham, Cut into ½" Cubes from Your Leftover Ham, or a Separate Ham Slice
2 Tablespoons Butter
1 Tablespoon Sheffield Italian Seasoning
4 Slices Hearty White, Italian or French Bread, Cut into ½" Cubes
Directions:
Rinse the split peas in a strainer under cold water. Pick out any stones or other debris.
Add 1 Tablespoon of Olive Oil in a large stock pot. Heat over medium heat. Add the carrots, celery, onion, thyme, salt and pepper. Cook until the carrots begin to soften, or about 6 to 8 minutes.
Add the ham bone, (or hocks or shank), broth, 5 cups of water and split peas. Reduce the heat to medium low, partially cover with the lid and simmer for about 30 to 45 minutes, until the split peas are soft.
While the soup is cooking, prepare the croutons. Put the bread cubes in a medium mixing bowl. Sprinkle the Italian Seasoning over the bread. Toss lightly. Melt 2 Tablespoons of Butter in a medium skillet. Drizzle the butter over the bread and seasoning mixture. Gently mix to evenly coat the bread cubes. Transfer them to the skillet. Heat over medium heat for about 5 or 6 minutes, turning periodically, until golden brown and crisp all over. Transfer to a dry bowl. Set aside until serving.
Once the soup is done, transfer the bone (hocks or shank) to a plate. Remove any ham from the bone and cut into small pieces. Discard the bone. Using a hand-held stick blender, puree the soup and vegetables. If you use a standard blender, carefully puree the soup in small batches, filling the blender jar no more than half way each time, returning each batch to the pot. Add the reserved ham cubes and pieces. Reheat to a simmer, adjusting the salt and pepper to taste. Thin with a bit of water if you need for the right consistency. Serve in bowls, topped with some of the bread cubes.