Standing Rib Roast with Fresh Horseradish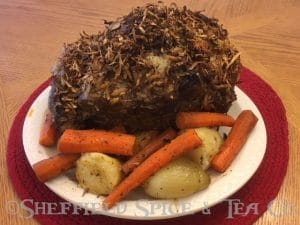 Our Standing Rib Roast with Fresh Horseradish is the best way we have found to cook a roast. We come from families where one side is British, so a Roast Beef or a Standing Rib Roast is just something you have for Sunday dinner and especially for the Christmas dinner. We have made our roasts many ways with many seasonings. Our favorite seasonings are a traditional Prime Rib Roast Beef blend or our Rick's Casablanca Seasoning, which we use in this recipe. If you haven't used the Casablanca Seasoning yet, you need to try it since it adds a wonderful flavor to any beef (or chicken) dish. It complements the rest of the seasonings in the recipe. The gravy is very flavorful as well.
We will make mashed potatoes and Yorkshire Pudding with our roast, but we will also roast potatoes, carrots and onions set around the roast in the pan. This makes the gravy even more delicious.
Makes 8-10 Servings
Ingredients:
One 6-7 Pound Beef Standing Rib Roast
2 ½ Tablespoons Olive Oil
2 ½ Tablespoons Rick's Casablanca Seasoning
5 Tablespoons Dijon Mustard (We Prefer Grey Poupon)
2 ½ Teaspoons Finely Chopped Garlic
½ Teaspoon Sea Salt
2 ½ Teaspoons Freshly Ground Black Pepper
1 Pound Fresh Horseradish Root, Peeled and Grated (About 3 Cups) Reserve some or buy extra to make fresh horseradish sauce for your roast.
Directions:
Preheat the oven to 325°F.
Cut the rib bones off the roast, and tie back on if not done by the butcher. Combine the grated horseradish, black pepper, garlic, and salt in a small mixing bowl.
Coat the roast with the Olive Oil. Generously rub the Rick's Casablanca Seasoning on all sides of the roast. Heat a saute pan large enough to hold the roast over medium high heat for about 2-3 minutes until the pan is very hot. Sear the meat evenly on all sides about 2 minutes on all sides until well browned. Remove from the heat.
Place a wire rack in a roasting pan. Place the roast on the rack. Rub the Dijon mustard on the sides and top of the roast. Press the horseradish mixture evenly over the mustard on the roast. Some may fall into the pan, but that only helps make the gravy tastier.
Cook the roast for about 2 hours 15 minutes for rare (125°F on an instant meat thermometer), about 3 hours for medium (145°F on an instant meat thermometer), or about 3 ½ hours for well done (160°F – 165°F on an instant meat thermometer). Remove from the oven, lightly cover with foil and rest for 15 minutes before carving.
Use the drippings for the gravy. Serve with mashed potatoes or Yorkshire Pudding, or both as we do.