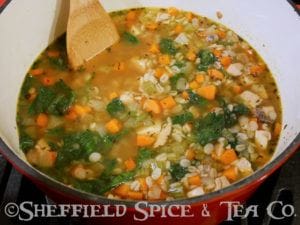 Chicken Barley Soup
Chicken Barley Soup is a very easy soup to make and so delicious. After a long day, you can go from prep to soup in your bowl in less than an hour. The simple seasonings give the soup a very savory flavor. This is the perfect soup for the Fall and Winter months, but we enjoy soups all year.
Chicken Barley Soup is a meal in itself, but serve it with some crusty bread if you prefer. We have an Easy Crusty Bread Recipe on our website.  For the recipe, please click HERE.
Serves 4 to 6
Ingredients:
2 Tablespoons Extra-Virgin Olive Oil
1 Medium Yellow Onion, Diced
4 Celery Stalks, Diced
4 Carrots, Diced
2 Boneless, Skinless Chicken Breasts, cut into ½ inch pieces.
2 Teaspoons Kosher Flake Salt
1 Teaspoon Freshly Ground Black Pepper
8 Cups Low-Sodium Chicken Broth
1 Tablespoon Dried Thyme
1 Cup Quick-Cooking Barley
5 Ounces Fresh Baby Spinach
Directions:
Heat the 2 tablespoons of olive oil over medium-high heat, in a large heavy stock pot, or a Dutch oven. Add onion, celery, and carrots. Cook about 8 minutes until carrots are just tender. Add the chicken and sprinkle with the salt and pepper. Cook about 2 to 3 minutes until the chicken starts to turn opaque, stirring occasionally.
Add the broth and thyme and bring to a boil. Add the barley and stir in. Cover, reduce heat to a simmer. Cook about 10 minutes until the chicken in thoroughly cooked and the barley is tender.
Add spinach, stir in, and cook 1 minute until wilted. Adjust salt and pepper to taste. Ladle into bowls and enjoy!