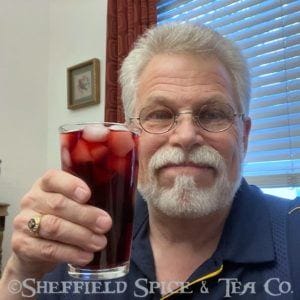 Strawberry Tart Tea – Rick's Tea Face 06/21/2022
Today is the Summer Solstice, the longest day of the year. Not my most favorite day since we have less sun every day until December 21st. So, I try to make myself smile and bear it. One way is to have a few favorite teas during the day. I started with Northern Lights, which is our Strawberry Maple Tea I've been sipping for 30+ years. Then I made this glass of our Strawberry Tart Tea for lunch, and iced it down. Not bad. Cheryl and I love Strawberry Tart with it's huge strawberry, fruity flavor and also because it's a very healthy tea with elderberries and hibiscus as its base. Look at that fantastic crimson red color from the hibiscus.
Strawberry Tart is excellent hot as well as iced. Some of our friends, including us, will add a bit to other teas when we want a fruity touch. Freeze into iced cubes the add to other drinks and teas to add a extra flavor a they melt without diluting the drink with plain ice.
They make great popsicles. Refreshing on these hot days. And, being caffeine-free, Strawberry Tart is perfect to sip anytime.
Still need another tea to serve your guests at gatherings, or to round out your Summer tea list? Then you really need to check out Strawberry Tart. One sip and you'll know why it is such a large, loyal following. Need even a bit more information? Then take a look for yourself, and click HERE. Cheers!