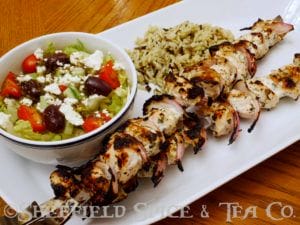 Greek Chicken Kabobs
Greek and Mediterranean food have become more popular in recent years and our Greek Chicken Kabobs make a delicious centerpiece for this healthy diet. Our Mediterranean Seasoning mixed with Greek Yogurt adds the classic Greek herb flavors you need. The yogurt helps to make the chicken tender and isn't loaded with oil. The result is a flavorful kabob which can be served with a variety of Mediterranean side dishes. We'll pair them up with Rice Pilaf, or a wild rice blend, and a Greek salad. Makes a healthy dinner anytime.
Serves 4 to 6
Ingredients:
2 Pounds Boneless Skinless Chicken Breasts. Fat trimmed off, cut into large bite-sized pieces.
1 Cup Plain Whole Milk Greek Yogurt. We use thick, strained version.
3 Tablespoons Sheffield's Mediterranean Seasoning
5 Garlic Cloves, Minced
2 Tablespoons Olive Oil
Juice of One Freshly Squeezed Lemon
Zest of One Lemon
1 Large Red Onion, Cut into 8 Wedges
Sea Salt & Freshly Ground Black Pepper
6 to 8 Metal Skewers
Vegetable Oil, for Greasing the Grill
Instructions:
In a large mixing bowl, combine the yogurt, Mediterranean Seasoning, garlic, olive oil, lemon juice, and lemon zest. Whisk to combine well. Add the chicken pieces and stir to coat well. Cover and refrigerate for 4 to 6 hours.
Skewer the chicken and red onion pieces onto the skewers, alternating the chicken and onion. (If you use bamboo skewers, make sure they have been well-soaked in water for an hour or so.) Do not make the chicken and onion too tight on the skewers. Lightly sprinkle the chicken and onion with the salt & pepper to taste.
Preheat the grill to medium-high heat. Brush the oil on the grill grates, using tongs and a paper towel dipped in the oil. Transfer the chicken kabobs to the grill. Grill about 10 minutes or until golden brown and thoroughly cooked. Turn the skewers over after 5 minutes. Don't overcook or the chicken will be dry. Transfer the skewers to a platter and serve immediately.
Serve with a side of Rice Pilaf, Greek Salad or other Mediterranean side dish of your choice. You can also serve with Pita Bread as a sandwich, topped with onion, diced cucumber, tomato and Tzatziki Sauce.