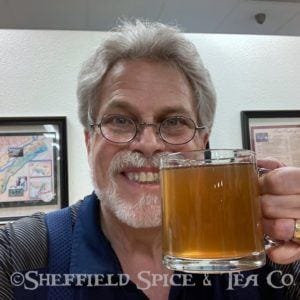 Twisted Turmeric Herbal Tea – Rick's Tea Face
We drink tea because we enjoy the flavor. That's it. But, we do have some herbal teas we drink not just because we love the flavors, but because they do have healthy properties from which we benefit. The tea I'm drinking is Twisted Turmeric Herbal Tea, which we blended for its healthy properties, as well as to taste good.
Turmeric and ginger have been used for their anti-inflammatory and other properties for thousands of years. Many of our friends like the flavor of ginger in their tea, so it's a win-win. We also blended it with lemongrass, orange peel, eucalyptus, peppermint and lemon balm for extra flavor. We added a couple other herbs for extra healthy good measure. This blend of herbs have a wonderful lemon ginger flavor, which if you've follow our weekly email newsletter, you know that any lemon tea lemon or ginger tea, or lemon ginger flavor tea are instant hits.
Our Twisted Turmeric Tea is all herbal so it is naturally caffeine free, which means you can enjoy it anytime of the day or night.
Still curious if you haven't sipped it yet? We have many friends who can't live without this tea either because they love the flavor, or they enjoy the healthy benefits of the blend, or both. Whatever your reason might be, for more information, please click HERE. Give it a try. Cheers!