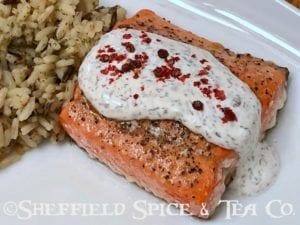 Baked Salmon with Pink Peppercorn Sauce
Baked Salmon with Pink Peppercorn Sauce is a delicious twist on a rather common dish. Using different sauces and seasonings on our salmon makes all the difference. Salmon is always a favorite of ours, especially when in season. When not in season, we can always find flash frozen fillets in our local market. Then, by changing the sauces and cooking method and seasonings, we entirely different meals. We will serve the dish with various rice and vegetable side dishes to complete the meal.
Salmon is served so many different ways around the world, the ways to cook it are endless. Even changing the cut can make a difference. This Pink Peppercorn Sauce has quite a complex flavor. The slight spiciness of the peppercorns and a bit of horseradish lead the way, with a touch of honey adding a bit a of sweetness. Dill is always welcome with salmon. The result is a unique flavor you'll want to make again and again.
Serves 4
Ingredients:
Salmon:
2 Pounds Salmon Fillets (About 4)
1 Tablespoon Olive Oil
Kosher Salt
Freshly Ground Black Pepper
Pink Peppercorn Sauce:
¾ Cup Sour Cream
1 Tablespoon Dried Dill Weed
1 ½ Tablespoons Prepared Horseradish
2 Tablespoons Pink Peppercorns
1 Teaspoon Honey
1 Teaspoon Kosher Salt
Directions:
Preheat the oven to 400◦ F.
Place a sheet of parchment paper on a shallow baking sheet. Transfer the salmon fillets onto the baking sheet. Brush the fillets with the olive oil, the sprinkle the salmon liberally with the salt and pepper.
Bake in the oven for 12-15 minutes, until thoroughly cooked. Time will vary based on the thickness of the fillets.
While the salmon is cooking, add all the sauce ingredients in a blender, and puree for a minute until smooth. Only use 1 ½ tablespoons of the pink peppercorns in the sauce. Reserve the rest for topping the sauce when served.
When the salmon is done, serve immediately with dollop of the peppercorn sauce. Crush the remaining pink peppercorns and sprinkle on top of the sauce for a peppery garnish.
We like to serve salmon with a wild rice side dish, or some broccoli spears, or asparagus, depending on the season.