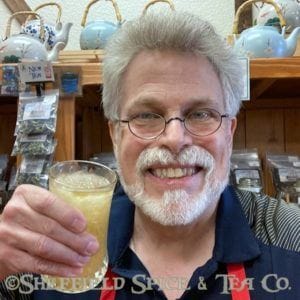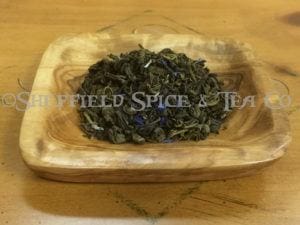 Blueberry Green Tea – Rick's Tea Face
Here's our Blueberry Green Tea, iced to freezing, in my string of Slushed Summer Iced Teas. It's actually stirable, so I could drink it like a slush. The great blueberry flavor comes through very well. Along with our Blueberry Black Tea, it's blueberry flavor is as good as I've ever had, but that's why we chose this blender over others. To get more information on this tea, and a bit of historical info, please click HERE.
To me, a good iced tea is one where the flavor is true to the blend, whether hot or iced. You can get some slight differences, but the flavor is unmistakable either way. Our Blueberry Green Tea is one of those teas. While I add a bit of sweetener to my flavored teas, especially fruity teas since it brings of the fruit nuances more, drinking it without sweetener doesn't lose the flavor.
You'll need good infuser as well.  We have several sizes of Mesh Pincer Ball Infusers, which are great for different size cups or teapots.  Take a look HERE.
If you are a fan of blueberries, or really any berry, and can't find many good flavored green teas, give this one a try. Of course, all of our teas are excellent or we wouldn't be selling them. Steep a large cup, place it in your freezer for a while, and enjoy it extra cold. Cheers!