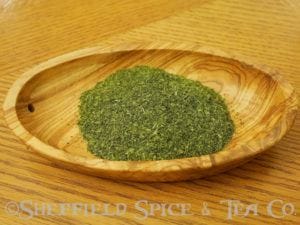 Konacha Green Tea – Ricks Tea Face
You'll never guess what's my tea cup this week, since this is a new tea in our store. It's Konacha and we just received it in. Konacha is made from the small bits of leaves, which are filtered out during the processing of sencha and gyokuro green teas. High quality Konacha uses better grades of these teas, but since they are not the whole leaf, it sells for less. The flavor is somewhat grassier, but can vary depending on how much tea is used per cup. Being a finer grade of tea, it steeps faster, and most will use more tea per cup, but that is a personal preference.
Konacha is also the tea you will find in better sushi restaurants, and many cups are drank in the course of a meal. It helps clear your palate between sushi pieces.
We buy our Konacha and our other Japanese teas directly from one of the oldest tea families in Japan. Since we buy them direct, our prices are considerably less than if we were to use a supplier.
Konacha tea is such a fine grade, you need to steep it either in a very fine mesh tea infuser, or in tea bags, which we sell in both the European paper version as well as the smaller Japanese version. Some will steep it in a teapot with a fine mesh infuser basket, and if the mesh isn't fine enough, will pour it through a fine strainer into the cups.
One of our more popular fine mesh tea infusers is our  Stainless Steel Tea Infusers which has a Silicone Ring Lid which doubles as a coaster for the basket when removed form your tea cup.  To take a look, please click HERE.
We have more information on our website about Konacha, so please take a look by clicking HERE. If you like Japanese teas, then you need to try some Konacha so you can compare it to your other green teas and see if it can earn a spot in your green tea section of your tea pantry.