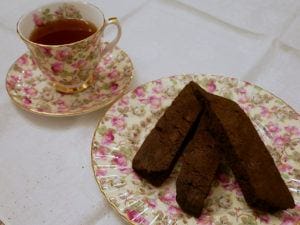 Chocolatey Chocolate Chip Biscotti
Chocolatey Chocolate Chip Biscotti are by far, the best chocolate Biscotti we have ever had, and not just because we made them. They are just that good. The rich chocolate flavor is hard to deny. They are made with both Cocoa Powder and Semi-sweet or Dark Chocolate Chips, which makes them crisp with a double chocolately richness.
Biscotti are easier to make than you might think and the result is better than those ones wrapped in cellophane. Once you've made them, you'll want to try other flavors. But, watch who you serve them to. They will want you to make more.
For variations, you can a couple tablespoons of finely chopped nuts, or use half chocolate chips and half peanut butter chips.
Servings: 25-30 Biscotti
Ingredients:
1 ¾ Cups plus 2 Tablespoons All-purpose Flour
¼ Cup plus 2 Tablespoons Unsweetened Natural Cocoa Powder
¾ Teaspoon Sea Salt
1 Teaspoon Baking Soda
8 Tablespoons (1 Stick) Room Temperature Butter
¾ Cup plus 2 Tablespoons Granulated Sugar
2 Large Eggs
2 Teaspoons Vanilla Extract
1 Cup Semi-sweet, or Dark Chocolate Chips
Directions:
Preheat the oven to 350 degrees and line a baking sheet with parchment paper.
In a medium mixing bowl, add the flour, Cocoa Powder, salt and baking soda. Whisk well to combine then set aside.
In a large mixing bowl, add the butter and sugar. Using an electric hand mixer, beat on high speed for 1 to 2 minutes, until light and fluffy. Use a rubber spatula to scrape the sides of the bowl. Add the eggs one a at a time, mixing well after each egg added. Add the vanilla and beat to blend in. Add the dry ingredients mixture and the chocolate chips. Blend on low until just combined.
Lightly flour a large cutting board or other work surface. Spatula the dough onto the work surface. Lightly dust the top with flour. Shape the dough into a ball. If too sticky, dust with a bit with flour. Cut the dough ball in half. Roll each piece of dough into a short log then place on the baking sheet and shape into longer logs about 2″ wide, 10″ to 12″ long and ¾" thick. Space the pieces about 3″ to 4″ apart since the dough will spread when baked. Bake for about 30 to 35 minutes, until firm to the touch. Let the biscotti cool on the pan for 5 to 7 minutes, until cool enough to touch. Don't wait too long or the biscotti will be to hard to cut. Use a sharp knife and slice the biscotti into 3/4-inch slices on the diagonal. Turn the biscotti slices, cut side down on the baking sheet. Place back in the oven for 10 minutes to dry and crisp up. Remove from the oven and let cool for a few minutes, then transfer onto a wire rack to finish cooling down. Serve with your favorite tea or other beverage.