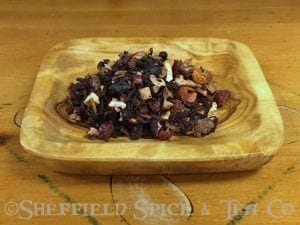 Paradise Peach Herbal Tea – Ricks Tea Face
This week I had a taste for one of our peach flavored herbal teas. I chose our Paradise Peach Tea since it never fails to deliver a large peach flavor, which is enhanced with apple and other fruit flavors. If you've read my Tea Face posts over time, you also know that I love the dark crimson color imparted by the hibiscus in the tea blend.  For a lot more information about this fantastic tea, please click HERE.
If I don't freeze my iced tea into a slush, I'll chill it as cold as possible, since I don't like to use ice, which dilutes my tea as it melts. I also don't have it long enough in my glass to get warm, so why waste space with ice, when I can have more tea in the glass.
Summer is in full heat mode right now. We've had temperatures over 110 degrees already, and we're not alone since other parts of the country, which don't normally get 100+ degree days, are scorching right now. When it's so crazy hot, any iced tea refreshes us and cuts our thirst. So if any iced tea works, why not drink one you really like. Our Paradise Peach has a very large following among our friends. I like mine with a touch of sweetener, which brings out the fruit flavor more.
Besides drinking it as an iced tea, you can also freeze it into ice cubes so you don't dilute your drink with plain water cubes. As ice cubes, they can also be used to float in other beverages which will impart a nice peachy flavor as they melt. Paradise Peach also makes excellent popsicles.
We recently started carrying a larger 2″ Mesh Pincer Tea Ball Infuser, which is perfect for your larger iced tea cups and mugs.  We have three sizes, so to check them all out, please click HERE.
I'm sure you're still looking around for the right teas to drink iced this Summer. Peach flavored teas are always popular, so why not audition one, this one, Paradise Peach and see taste why it deserves a spot on your tea shelf this year. Cheers!