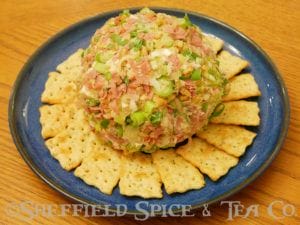 Chipped Corned Beef Cheese Ball
Everyone loves cheese balls and our Chipped Corned Beef Cheese Ball is no exception. Our version uses our Chive Pepper Seasoning to bring out the flavors of all the ingredients. We tweaked our version to make your party even more delicious. The flavor of using Corned Beef or Pastrami adds extra flavor the regular chipped beef doesn't have. Be careful, though, the flavor might have you skip your main course and just fill up on the Cheese Ball.
Serves 8-10
Ingredients:
1 Package (8 Oz.) Cream Cheese, Softened
1 Cup (4 Oz.) Finely Shredded Sharp Cheddar Cheese
4 oz Chipped Corned Beef or Pastrami, Chopped. Reserve 1 oz for garnish If you can't find it packaged, then have deli shave 4 oz very thin.
1 to 2 Teaspoons Sheffield's Chive Pepper (Add 1 teaspoon first, then add more if desired.)
½ Cup Green Onions, Minced, plus ¼ Cup for Garnish
¼ Cup Black Olives, Drained and Chopped (Optional)
½ Cup Walnuts, Chopped fine, plus ¼ Cup for Garnish
1 Teaspoon Worcestershire Sauce
Assorted crackers for serving
Directions:
In a large mixing bowl, beat the Cream Cheese and Cheddar Cheese with a hand mixer on medium speed of mixer until well combined and creamy. Add the Corned Beef, Chive Pepper, Green Onions, Black Olives, Walnuts and Worcestershire Sauce. Mix with blender until well combined. Remove from the bowl and form into a ball.
In a medium mixing bowl, add the reserved Chopped Corned Beef, Green Onion and Walnuts. Roll the cheese ball in the garnish mixture until completely coated. Wrap in plastic wrap and refrigerated for at least 2 hours to allow flavors to develop. Serve with assorted crackers. Enjoy!