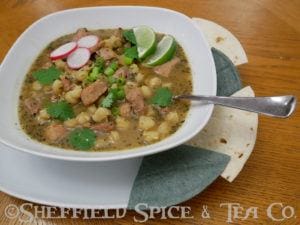 New Mexico Posole
New Mexico Posole is a traditional Southwest dish. Our version is based on the versions found in New Mexico, where the Pueblo influence makes it different than other versions. In New Mexico it is typically made on Feast Days, especially on New Years Day. Some Pueblos make it as a vegetarian dish while other use pork as our version does. If you want to make it as a vegetarian dish, eliminate the pork and use vegetable stock. The New Mexico Red Chile Peppers add a nice chile flavor. The lime, radish, cilantro and other garnishes allow you to customize your bowl.
The Southwest Native Americans taught early Spanish explorers their technique for drying and preserving corn as Posole. The Europeans added pork, making the hearty stew that became a popular dish anytime of the year throughout the Southwestern area of what is now the United States.
Serves 4
Ingredients:
2 Tablespoons Olive Oil or Canola Oil
1 Pound Pork Boston Butt, Pork Loin Roast, or Other Lean Pork Cut, Trimmed of Fat and Cut into ¾ Inch Cubes (Omit if making a Vegetarian/vegan version.)
1 Large Onion, Chopped
4 Garlic Cloves, Minced (or 1 Tablespoon of Granulated Garlic)
4 Cups Chicken Stock, or More as Needed (Substitute Vegetable Broth for a Vegetarian/Vegan version)
2 to 3 Tablespoons Dried Mexican Oregano
2 to 3 Bay Leaves
2 Teaspoons Dried Thyme
2 Teaspoons Kosher Flake Salt, or to Taste
1 Teaspoon Freshly Ground Black Pepper
2 30 oz Cans Posole (White Hominy)
2 to 3 Whole New Mexico Red Chiles (Dried or Fresh)
Lime Wedges, Sliced Green Onion Tops, Chopped Fresh Cilantro, and Thin Sliced Radishes for Garnish
Directions:
Warm the oil in a large stockpot over medium heat. Add the pork and sauté about 10 minutes until the pork is lightly browned. Add the onions, and garlic, and continue to sauté for another 2 to 3 minutes until the onion starts turning translucent.
Add the Posole, chicken stock, oregano, bay leaves, thyme, salt and black pepper. Start with 2 tablespoons of Mexican Oregano. Add the third tablespoon if you want the posole a bit more savory. Bring the mixture to a boil, reduce the heat to medium-low and simmer, for I hour. Add the New Mexico red chiles and continue simmering for another I to I ½. hours, or until the corn is puffed and tender but still a little chewy. Add more stock if necessary, for a soup/stew consistency. Adjust the salt if needed. Remove the bay leaves and chile peppers before serving.
Serve each portion in a bowl. Garnish with limes wedges, green onions, cilantro, and radish. It is also traditionally served with warm flour or corn tortillas.  Enjoy!