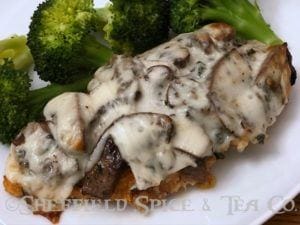 Chicken Breasts with Portobello Mushrooms
Our friends love chicken recipes, and this Chicken Breasts with Portobello Mushrooms recipe will become a standard, we're sure. It's simple to make, and the flavor of the seasoned breadcrumbs using our Casablanca Seasoning with the mozzarella cheese adds an outstanding flavor to the chicken without having to gather a lot of spices together. It's all in one blend. Casablanca is one our most popular blends since it is so versatile.
We love cooking with Portobello mushrooms, whether grilled, baked or sauteed. The firm texture takes on the flavor of your spices so well. The result will have your guests ask for more, and you'll want to make sure you have leftovers. We serve our with some steamed broccoli, asparagus, or even a mixed greens salad with Italian Dressing. Simple yet, elegant.
Serves: 4
Ingredients:
2 Boneless Skinless Chicken Breasts, Halved
¼ Cup Unseasoned Bread Crumbs
4 Teaspoons Rick's Casablanca Seasoning
⅓ Cup Freshly Grated Parmesan Cheese
1 Egg Beaten
½ Cup Red Onion, Diced
1 Tablespoon Olive Oil
2 Portobello Mushrooms, cut in half then sliced
½ Teaspoon Freshly Ground Black Pepper
¼ Cup Fresh Parsley, Chopped
4 Slices Mozzarella Cheese
Directions:
Preheat oven to 425°F.
Combine the bread crumbs, Casablanca Seasoning, and Parmesan cheese in a shallow dish or mixing bowl. Mix well. In a small bowl, beat the egg. Dip chicken in egg and then in the breadcrumb mixture. Make sure the chicken is well coated.
Spray a baking dish with non-stick cooking spray. Place chicken breasts in the baking dish and set aside.
Add the olive oil to a large skillet over medium heat. Add the onion and saute about 3 minutes until soft. Watch close so they don't burn. Add mushrooms, black pepper, and parsley and cook about 5 minutes, turning once or twice so the mushrooms start to turn golden brown.
Divide the mushroom mixture evenly on top of chicken breasts. Bake at 425 degrees for 10 minutes. Place the mozzarella slices evenly over each piece. You may need another slice or two of cheese to cover the chicken, depending on the sizes of your slices.
Bake another 10 minutes and the internal temperature reaches 165 degrees. Don't over cook. Serve immediately.